Sydney is one of the greatest cities in the world, and a bucket-list destination for many travellers. In fact, we loved it so much that after arriving here as backpackers with the intention of staying a year, we ended up making it our home.
It's generally a really easy place to travel but that doesn't mean that there aren't many simple mistake you can make. We want everyone to fall in love with Sydney like we have and avoiding these 15 common mistakes will make sure you have the trip of a lifetime.
So here's the 15 mistakes you will want to avoid in Sydney.
15 Mistakes to avoid in Sydney
1. Sticking only to the city as you think something will kill you in the rural areas….
This is the most common concern we hear about Australia, that everything wants to kill you – that you may be safe in the city but outside of it, Australia is some wild jurassic park, full of venomous snakes, spiders, jellyfish, crocs and sharks.
Whilst Australia does have all of these somewhat unnerving creatures, you will virtually never see them in Sydney (and Sydney doesn't have crocs, just to be clear!).
In the six years we've lived in Australia, we've seen snakes and spiders a handful of times, despite the fact we go hiking in the bush every weekend. And none of these encounters have been scary! Snakes tend to slither away if they hear you or just plain ignore you and spiders are usually hanging out in their webs. You get the odd spider in the house but usually hotels and hostels will have pest control and I have never ever seen a spider in any hotel or hostel and we've stayed in many.
The lookout at America Bay in Ku-ring-gai
Sydney is blessed with some incredible natural places. It has hundreds of stunning beaches (many are better than Bondi), incredible bushland, the beautiful Blue Mountains and so much more.
Whilst we love the city, you haven't visited Sydney if you don't venture out to the rural surrounds. We recommend giving one of our many favourite Sydney walks a go.
2. Believing that summer is the best time to visit…
Common sense would make you think that the summer is the best time to visit anywhere: the weather is at its warmest, the rain normally holds off and you have more hours of daylight to explore.
However, Sydney in the summer can be a pretty unbearable place. Between December and February temperatures rarely drop below 25C (even at night) and in the day it can be as hot as 45C! Add in intense humidity and you'll find that anything other than taking a dip in the ocean is a sweaty affair.
We recommend visiting any time but the height of summer, as the temperatures are a lot more bearable and you can get outside without the excruciating heat. Summer is also generally some of the wetter months of the year!
Bondi Beach
3. But not realising that it does get cold in the winter
So a lot of people think that Sydney is hot all year round. Whilst the winters aren't cold by world standards, it isn't exactly hot! Nighttime temperatures can drop to single digits and the daytime can get a bit chilly.
If you are coming here to visit the beaches and swim in the ocean, then winter is definitely not for you. The water gets pretty cold and it's definitely not sunbathing weather! Our favourite time of year in Sydney is spring, when it has started to warm up but it's not too hot and wild flowers start to bloom in the national parks.
4. Not realising how far away Sydney is from everywhere else in Aus
Maps are deceiving, and at face value you may think Melbourne isn't too far away. The reality is that Melbourne is a 9 hour drive from Sydney (without traffic), and that's one of the closer cities!
When you hear that Auckland is closer to Sydney than Alice Springs, and that Perth is a 5 hour flight away, you begin to realise just how big Australia is! Whilst you can cover a lot of ground flying, it's not a country where you can get to all the highlights in a short time on a road trip.
This leads onto the next point….
5. Not giving yourself enough time
There is so much to do in Sydney and the surrounding area, that giving yourself a couple of days doesn't really do it justice. The city has a lot to offer, as well as numerous amazing day trips and many places that are worthy of an overnight stay.
The beautiful Lincoln's Rock in the Blue Mountains
Whilst we know annual leave is tight, if this is the one time you visit Sydney, we recommend giving yourself at least 3-5 days to see the city, get a glimpse of the Blue Mountains and can you really resist the beach with the whitest sand in the world (it's a fact!) which is just 2.5 hours away?!
6. Going for a very cheap Airbnb or lodge
This may not be that surprising, but inner city Airbnbs in Sydney are generally bad. We mean REALLY bad.
When moving back to Sydney, we booked in several week long stays in various Airbnbs, thinking it would be a cost-effective way to stay in an expensive city. They weren't that cheap either, costing about $100 per night!
However, they were all terrible. At best they were noisy, studios where few things worked – we're talking no hot water and broken ovens – at worst you'll get a cockroach infested hell-hole (that one we left after only one night having already performed a cockroach massacre). And on that note sadly Sydney does have a cockroach problem unless you stay somewhere where they use pest control. Our record is killing 30 in one day before running for the hills.
We stayed in several different places, all in different areas, and they were all bad.
We recommend either staying in one of the many Sydney hotels (often they don't cost much more) or spending a bit more to avoid the budget end of the Airbnb spectrum.
7. Underestimating how expensive it is
Sydney is one of the most expensive cities in the world. Even a budget hotel can set you back $120 AUD per night (and even more in the summer), a beer is $8 AUD for a schooner (which is pretty small) and meals can set you back well over $50 AUD per person, per meal!
If you can, getting a kitchen and buying groceries can help save the pennies, but even this isn't cheap by most of the world's standards. Luckily, a lot of the best things to do in Sydney are free so you can visit on a budget to some extent. We have heaps of extra money saving tips in this blog.
8. Believing that kangaroos are everywhere….
Sadly, kangaroos don't just hop down the street in Sydney, despite there being two kangaroos for every person in Australia! In fact, Sydney is one of the hardest places to see a wild kangaroo, as they tend to live far from the CBD in selected pockets.
However, we still recommend hiring a car and making the effort to see a mob in their natural environment, as opposed to visiting a local zoo. There's nothing like seeing these incredible animals in the wild and we've put together a guide that will tell you in detail about all the best places to see kangaroos near Sydney, it just so happens that many of them are in areas with other incredible things to do so it's easy to pick a destination that suits you. Wineries and roos anyone?
9. Hoping to see a koala in the wild nearby
Now this Aussie icon is even harder to find than a kangaroo! Koalas are endangered, and the recent bushfires have threatened them even more. Even if you go to a place to see them, spotting them isn't always easy as they are often curled up into little balls at the top of trees, and camouflage really well.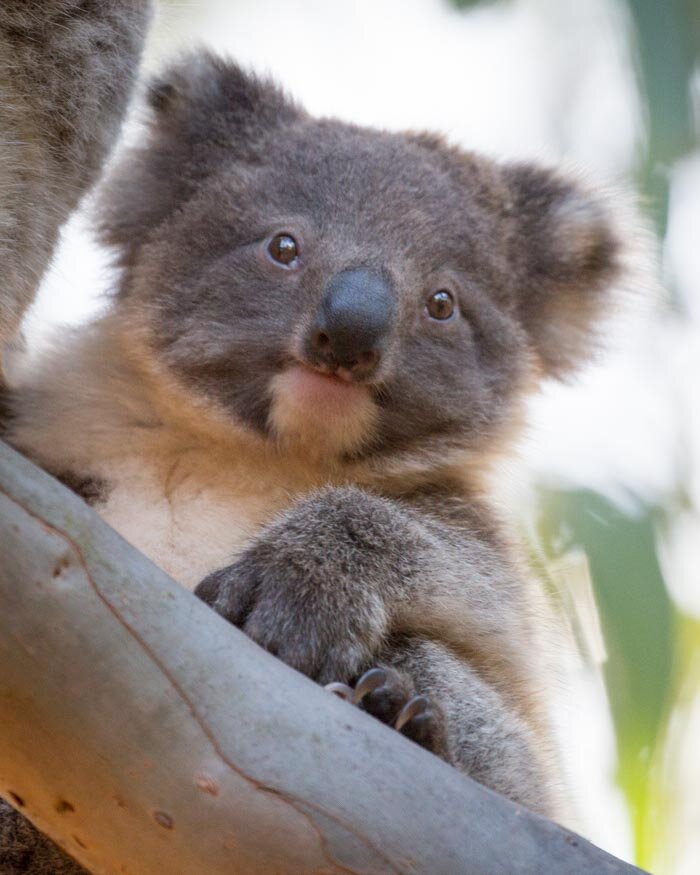 However, fear not, as with the kangaroos, we have a guide for the best places to see koalas nearish Sydney. You will need a car and be prepared to drive a fair bit, but it is possible!
10. Underestimating the sun
Few people are prepared for just how brutal the sun is in Sydney! You will need sunscreen and sunglasses, even if you visit in the depths of winter, as the sun is intense.
We've known a lot of people who've suffered from the Aussie sun, thinking that a few hours of sunlight won't hurt. Then they see the burn that will haunt them for most of the holiday!
11. Paying for a pricey harbour cruise tour
Getting out on Sydney Harbour should be at the top of every visitor's list. It's beautiful and the true highlight of the city. However, unless you are planning a do a fine dining cruise (some of which are truly fab), avoid the guided tours of the harbour. You can see the best places and sights for a fraction of the price by taking a public ferry to Manly.
The added benefit of this is that you also get to visit Manly afterwards, one of the best beaches in Sydney.
The only other day time cruise we'd recommend is the Tall Ship because it's something different. Instead of cookie cutter boats these look like pirate ships and they have a long working history. You can check out the living quarters below deck and even climb the mast! There are various options and we've done several with visitors over the years. The unlimited wine and canapes one always goes down a treat!
12. Going on a tour to the Blue Mountains
We love the Blue Mountains. As Sydney residents, it's our favourite place to escape the city and wind down after a busy week. There is so much to do here, from the incredible walks, to the epic lookouts. It's also a place that is really easy to explore on your own, either by public transport (by train to Katoomba) or with a car.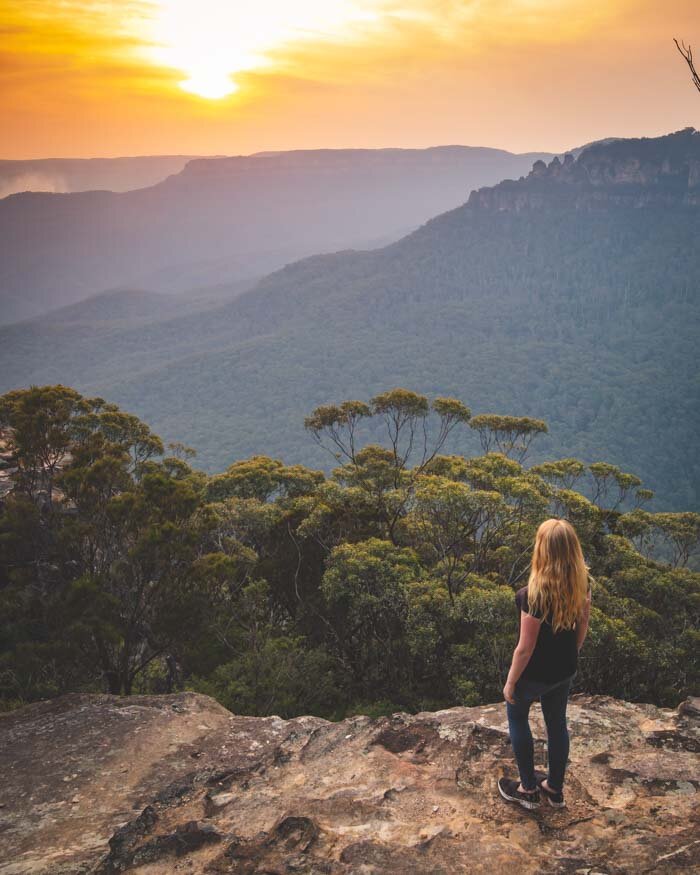 However, if you book a tour you'll find that your day is pretty rushed. The majority choose to stop at the Olympic Stadium or Featherdale Wildlife Park on the way, leaving you with only a short time to see the Three Sisters Lookout and maybe one other place. You really won't get to see the best of the mountains.
Unless you love tours, we strongly recommend visiting independently. This way you can really see the Blue Mountains on your day trip.
If you'd still prefer a tour, do your research and make sure you are getting a good amount of time at the mountains themselves, feel free to ask us any questions if you're not sure it will be a good one!
13. Thinking you can't get out to the nearby national park without a car
The wonderful thing about Sydney if you can't drive or just don't want to, is that you can get out to at least some parts of all the surrounding national parks by public transport.
The trail to Wedding Cake Rock in Royal National Park, accessible by public transport
Many of Royal National Park's stunning hikes and beaches can be accessed by train or a train and ferry combo, ditto for Ku-ring-gai. You can access great parts of both the upper and lower Blue Mountains by train and all these journeys are cheap.
If money is tight travel on Sunday where unlimited journeys cost just $2.80. Sunday Funday indeed!
14. Flying a drone in the harbour
Getting an aerial photo of the harbour is every photographer's dream, but make sure you don't do it with a drone. The harbour is a no-fly zone for drones as helicopters and seaplanes fly low over this controlled airspace regularly.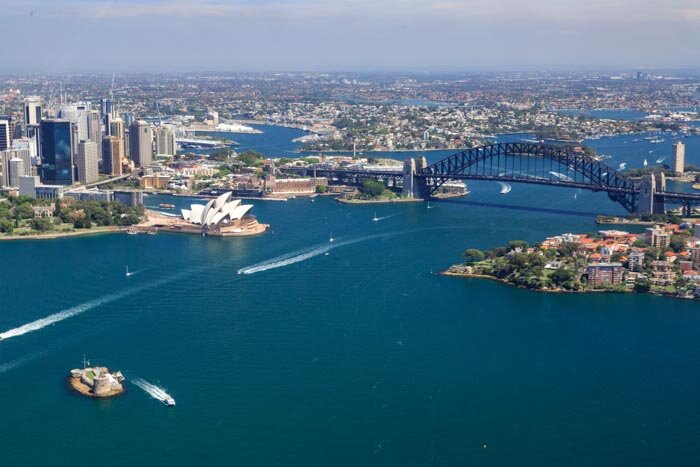 If you want an incredible view of the harbour from above, either book a scenic helicopter ride or snag a window seat on the flight in (the view on the plane in is always one we love!).
Helicopter rides don't even have to cost a fortune, if you book a standby flight you can fly for as little as $99 for 20-25 minutes which we've made use of before!
15. Missing out on the Bondi to Coogee walk
Even if you are not a hiker, the Bondi to Coogee walk should be high on your list of things to do in Sydney. This beautiful walk connects two of Sydney's most loved beaches, takes you past three others and delivers incredible view after incredible view.
In the winter you may even see whales migrating past from the cliff edge. Dolphins can be spotted year round, we don't see them every time but we have seen them a lot! Even if you just do Bondi To Bronte Beach you won't regret it!