There is simply nowhere like Hawaii. I have traveled to many places around the globe and Hawaii will always be etched in my mind as one of my favorite destinations.
This is an Oahu itinerary detailing how to spend 4 days in Oahu!
Are you looking for an itinerary for Honolulu instead?
Click here to check it out and be sure to let us know your Oahu itinerary tips in the comments!
What to Know Before Traveling to Oahu
Oahu is an adventure lover's paradise. It's a tiny Hawaiian Island that's part of the United States. Oahu is known for its surfing culture, pristine wildlife, and fresh pineapples.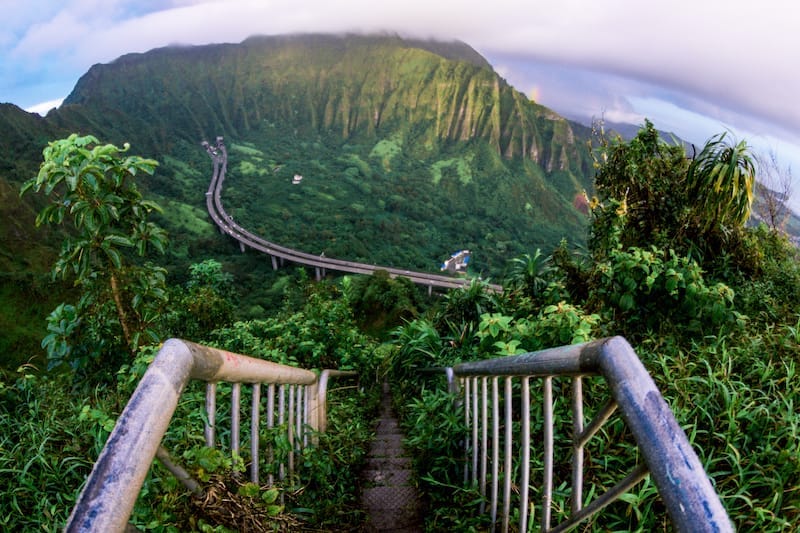 Best Time to Visit Oahu
The best time to visit Oahu is April through June or September through December. This is when you'll find fewer crowds at the beaches and cheaper hotel room rates.
Year-round, temperatures in Oahu tend to stay between the high 60s and low 80s °F. The hottest months are May – October, but temperatures rarely get into the 90s even then.
About the Hawaiian Island
The island of Oahu was formed by volcanic eruptions over 2 million years ago. It's this origin that's given this tiny island such a diverse topography.
In Oahu, you'll find mountains, ridges, valleys, and gorgeous waterfalls – absolutely perfect for hiking!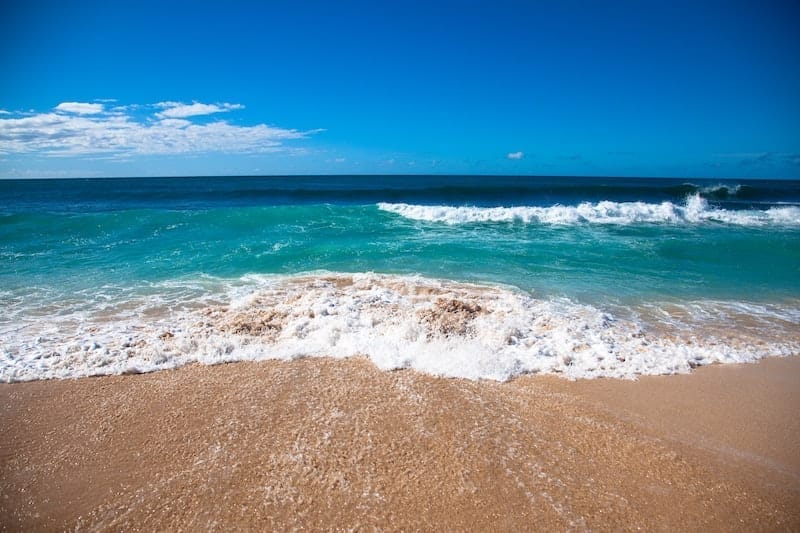 Oahu's Pacific location means big waves, diverse sea life, and unique Polynesian history. 
Whatever you're into, you'll find it when you travel to Oahu!
This Itinerary for Oahu
There are so many incredible things to do in Oahu! So, as you might imagine, it's tough to condense it down into merely 4 days on Oahu.
However, 4 days is certainly enough to get the best out of a trip to Oahu. Limiting your time to 4 days in Oahu can give many travelers extra time to explore Maui and the gorgeous Haleakala National Park or the big island of Hawaii. 
Here is a quick overview of this Oahu itinerary and what to expect before you visit the most populated island in Hawaii:
Day 1: Downtown Honolulu and Diamond Head Crater
Day 2: North Shore
Day 3: Snorkeling at Hanauma Bay and Hiking to Manoa Falls
Day 4: Pearl Harbor and Final Day in Oahu
More time on Oahu? Additional suggestions to occupy your time.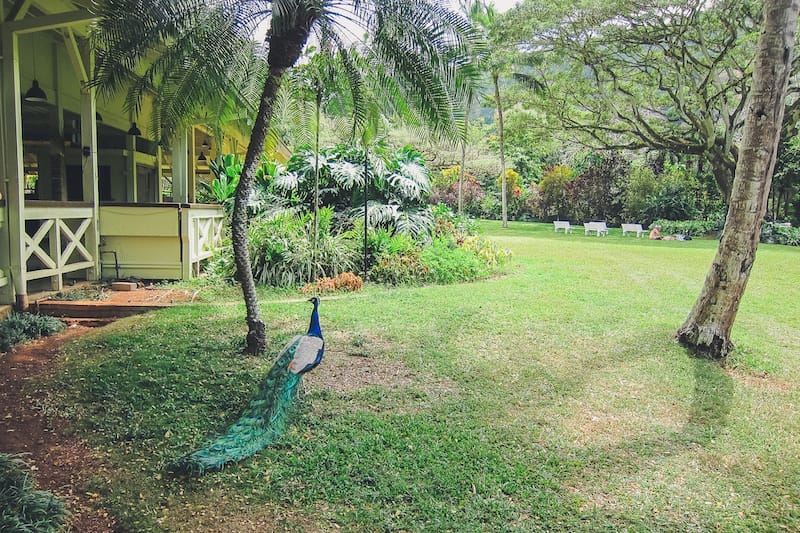 Where to Stay on Oahu
Many of Oahu's best hotels are located on Waikiki Beach. Waikiki is a historic and modern Oahu. Since the 15th century, Waikiki has been the government center of Oahu.
In the 19th century, Waikiki became the resort vacation destination for Hawaii's ruling family. The first luxury hotel was built in the early 20th century – and you can even stay there today! It's called the Moana Surfrider. 
Waikiki Beach is the quintessential Oahu beach. It's bordered by high-rise hotels, luxury shopping, and endless dining opportunities.
If you stay at Waikiki Beach, you'll be near Diamond Head, Hanauma Bay, and the Pearl Harbor Memorial. 
Accommodation in Waikiki
Besides Waikiki Beach, the other hotspot to stay in on Oahu is the North Shore. If you're looking for the best places to stay on the island – be sure to check out our guide to the best Airbnbs in Oahu!
Accommodation on the North Shore
The North Shore of Oahu is famous for surfing, sea turtles, and the Dole Pineapple Plantation. The only resort on Oahu's North Shore is Turtle Bay. Although, many laid-back travelers choose to find an Airbnb here so they can ditch the crowds in Waikiki.
Renting a Car on Oahu
You can get from Oahu's North Shore to Waikiki Beach in under an hour of driving. Renting a car is the best way to get around Oahu island.
We definitely recommend booking ahead of time so that you can ensure a lower price and availability.

Day 1: Downtown Honolulu and Diamond Head Crater
Welcome to Day 1 in Oahu! You'll spend today exploring the Diamond Head Crater and Honolulu's downtown. 
Drink Hawaiian Coffee in Honolulu
Start your first day in Oahu with a cup of fresh Kona Coffee. Kona coffee beans are grown on Hawaii's Big Island in volcanic, nutrient-rich, soil.
Besides the soil, the Kona region is known for having the perfect climate for growing coffee beans. Kona sees bright, sunny, days and rainy afternoons. It's also at a high altitude of over 3,000 ft! This is truly world-renowned coffee!
You can taste Kona Coffee at the Olive & Oliver Cafe. 
Visit Diamond Head Crater
If you are staying in Waikiki, you may choose to bike to Diamond Head. Many hotels around Waikiki offer free bicycle rentals for 3 hours.
You can use these to explore Diamond Head and the lively city of Honolulu. The bike ride to Diamond Head should take no more than 30 minutes.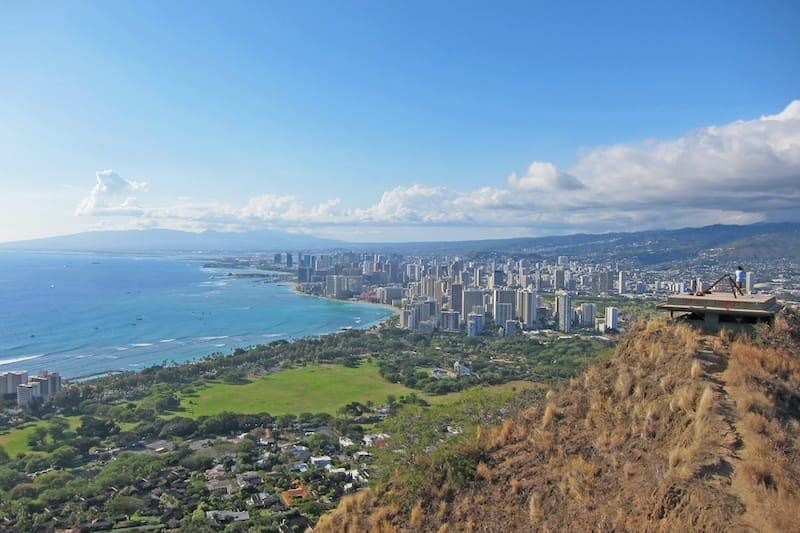 Diamond Head Crater is the remains of a volcanic cone — a volcano that erupted some 300,000 years ago. During the years, this part of Oahu was used by the military in certain defense operations.
You can visit some historic places as you move through the state park. There's one main trail at Diamond Head State Park. It's less than 2 miles altogether, but it's quite steep.
Along the way, you'll enjoy several scenic lookouts and end at the most beautiful panoramic view of Honolulu. 
Plan to arrive at Diamond Head in the morning. You'll want to be done hiking by noon so that you miss the scorching rays of the run. 
Insider tip: Alternatively, if Diamond Head is high on your, list, you can take a tour there instead. This tour is a hiking one from Honolulu and it goes in the morning and is one of the top-rated Oahu tours to take.
Bike (or hike) back to Waikiki. You can have a nice casual lunch at the Hula Grill Waikiki to wind down from the adventurous morning.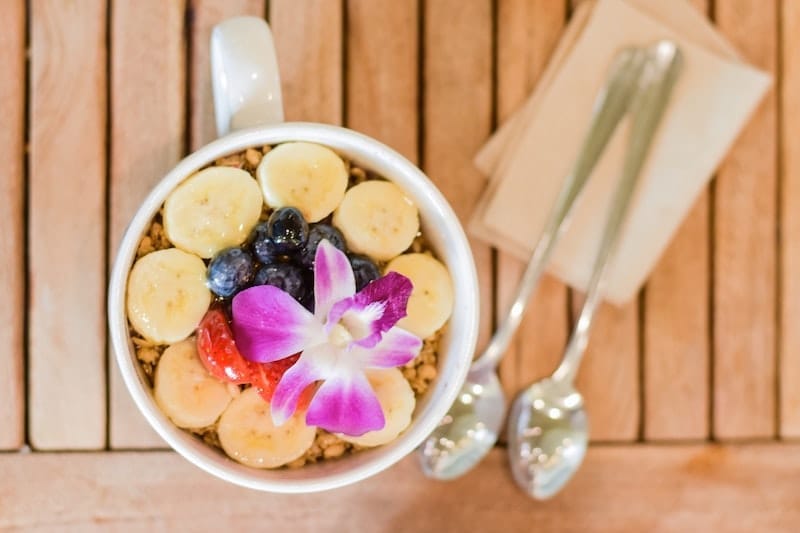 Iolani Palace Honolulu
During the hottest part of the day, skip the sunburn and explore Honolulu's Iolani Palace instead. This is the exquisitely restored summer vacation palace of King Kalakaua and his dynasty.
This is a national historic landmark & it's the only official royal residence in the United States! There isn't a better place to learn about the last ruling leaders of Hawaii's monarchy. 
Other incredible museums in Honolulu include the Shangri La Museum of Islamic Art and the Honolulu Museum of Art if you end up with a rainy day or simply want to learn more about the culture of Hawaii.
Dinner at Duke's
Make sure to watch the sunset at Waikiki Beach before heading to dinner at Duke's! 
Dinner at Duke's should be on every Oahu bucket list. Duke Kahanamoku is the namesake for Duke's. Duke was said to have descended from Hawaiian royalty.
However, he's most famous for becoming a surfing legend. He set multiple world records, won Olympic Gold medals, and propelled the sport of surfing into popularity.
Eventually, he moved to California and became a movie star. 
Day 2: Visit the North Shore
Start your day at Island Vintage Coffee. It's known for healthy acai bowls made with freshly grown island fruits like papaya, passionfruit, and bananas. Yum! You'll need sustenance for your busy day touring Oahu's North Shore.
Go Diving With Sharks in Oahu
Start your North Shore day by cage diving with sharks. Seriously, it's one of the best things to do in Oahu! Actually, Oahu is one of the only places in the US where you can do this activity.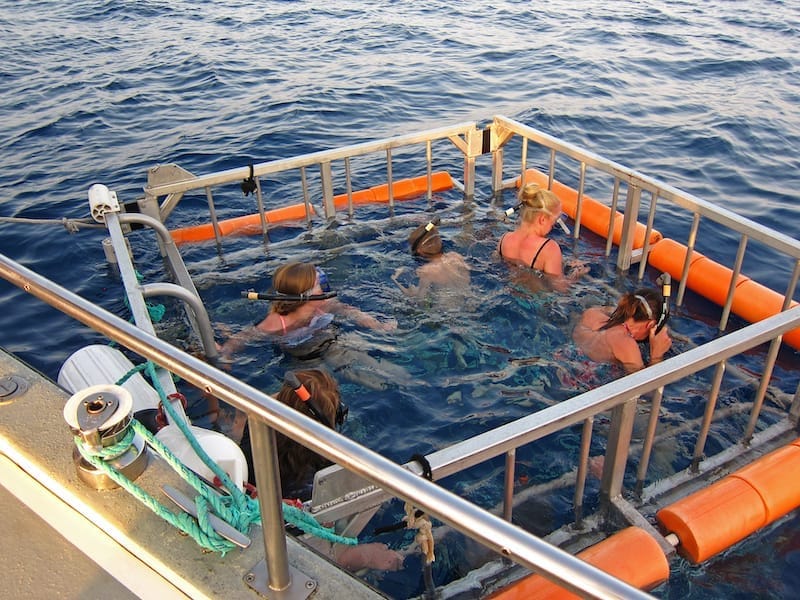 On this tour, you're guaranteed to see a shark because they are so popular at the site you are taken to. You may see sandbars, Galapagos or, even tiger sharks!
During the snorkel, you'll be safe inside a poly glass cage. This is a once-in-a-lifetime Hawaii experience!
Have Lunch at a Food Truck
You can stop for lunch at one of the North Shore's famous food trucks for lunch. In the town of Kahuku, there's a food truck hub and it is a foodie's utopia.
You can sample garlic shrimp, spam concoctions, and Korean BBQ. There's something for everyone. It's called the Kahuku Roadside Food Court.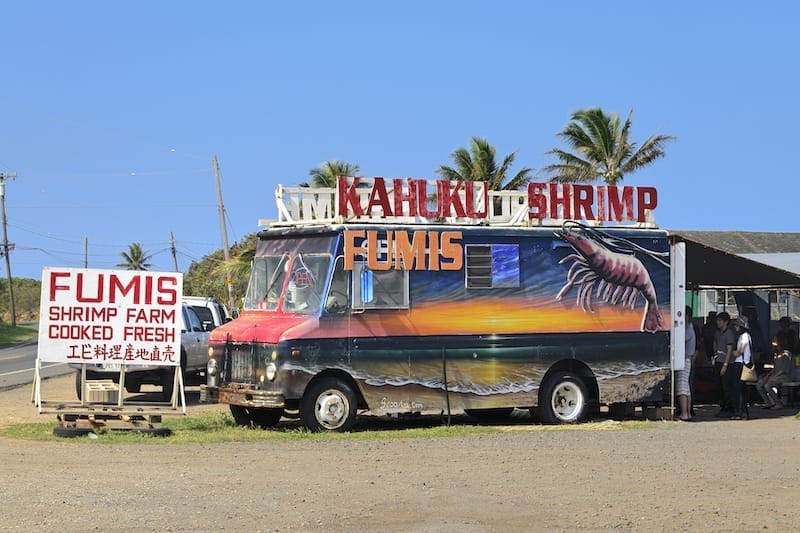 Visit Laniakea Beach
After lunch, stop by Laniakea Beach and find sea turtles. This is their favorite spot to chill on Oahu. They love it because the beach is surrounded by shallow waters and rocky spots where their favorite snacks (seaweed) grow plentifully.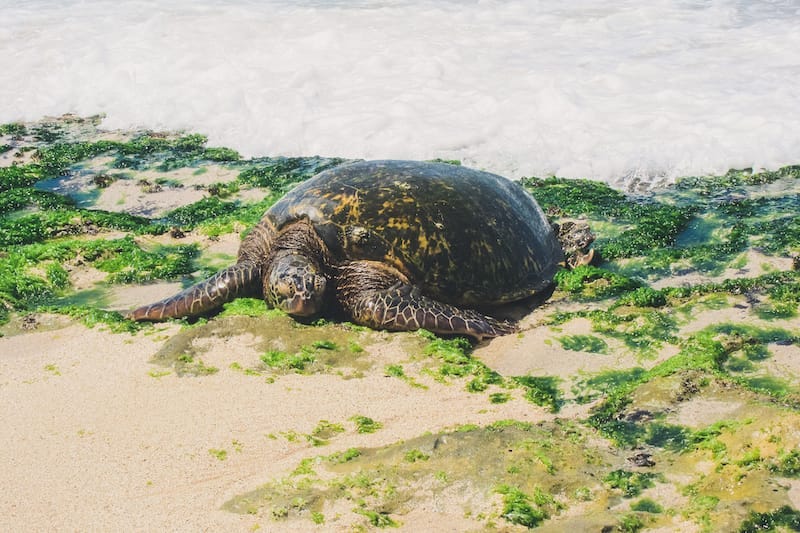 You'll be seeing Hawaiian Green Sea Turtles and don't be surprised if you find volunteers around protecting the turtles from visitors. Make sure to keep a safe distance from the turtles so that you don't give them anxiety. 
Visit Waimea Bay Beach Park or Waimea Falls
Once you've found sea turtles, continue to the nearby Waimea Bay Beach Park. The Waimea Bay Beach Park is really cool because there's this huge rock formation you can climb and jump off of!
Make sure only to attempt this if the waters are calm enough and the tide is low enough. Also, don't forget a pair of water shoes. The rock is very jagged and slippery.
With a bit of luck (and after watching to see how the locals do it), you'll be able to climb this giant rock and jump off of it. It's quite fun!
If you prefer a calmer afternoon activity, you may instead visit the Waimea Valley & Waimea Falls. It's a beautiful jungle property with a small botanical garden and beautiful peacocks roaming around.
There's an almost 1-mile hike out to the waterfall and lagoon. Visitors who choose to swim in the lagoon will be required to wear lifejackets (they will be provided).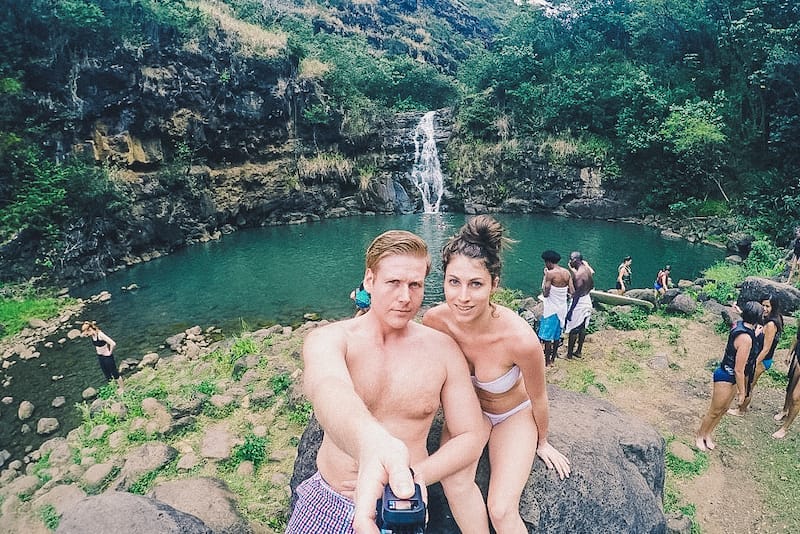 Dole Pineapple Plantation
Finally, you'll conclude your North Shore adventure with a stop at the Dole Pineapple Plantation. The Dole Pineapple Plantation has incredible sweet treats, a fun maze, and a short history tour. This is a great spot for families.
End your day with a legendary Mai Tai at the Royal Hawaiian's Mai Tai Bar.  A Mai Tai is a Polynesian cocktail made with a rum base and traditionally Curaçao liqueur, orgeat syrup, and lime. 
Day 3: Snorkeling at Hanauma Bay and a Luau Experience
It's your third day in Oahu, and it's time to snorkel! The best place to snorkel on Oahu Island is Hanauma Bay.
Snorkeling at Hanauma Bay
This is a nature reserve and protected cove. This is one of the most popular tourist attractions in Oahu, so arrive early or book your tour in advance. You don't need to visit this place on a tour, but it may be helpful if you haven't rented a car.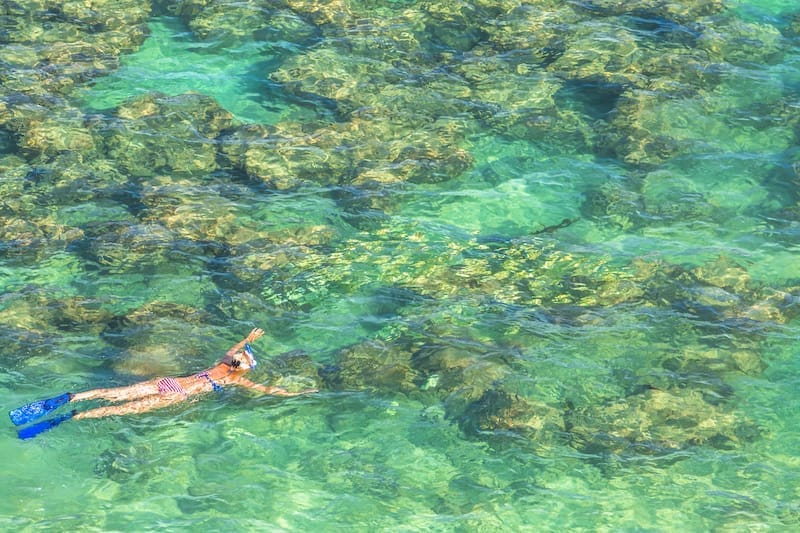 Prior to visiting Hanauma Bay, guests will watch a brief information video to ensure that they know the best practices within the reef. It's important to preserve the beauty and sanctuary of the wildlife in this place.
When you snorkel at Hanauma Bay, you'll see tons of fish and marine life! The waters are very shallow, clear, and calm. There are a lot of rocks to navigate around, so water shoes are recommended.
Don't forget the underwater case for your phone or camera! 
Insider tip: If you have more time than merely 4 days in Oahu, you might want to take this tour of the hidden gems of Oahu that also includes snorkeling at Hanauma Bay. This tour goes to various other places and gives you a taste of the island with ease.
Visit Manoa Falls and Lyon Arboretum
In the afternoon, you can visit Manoa Falls and the Lyon Arboretum. You can't swim in Manoa Falls, but the hike up there is beautiful. It's also one of the off-the-beaten-path attractions. So, it provides a nice break from the crowds.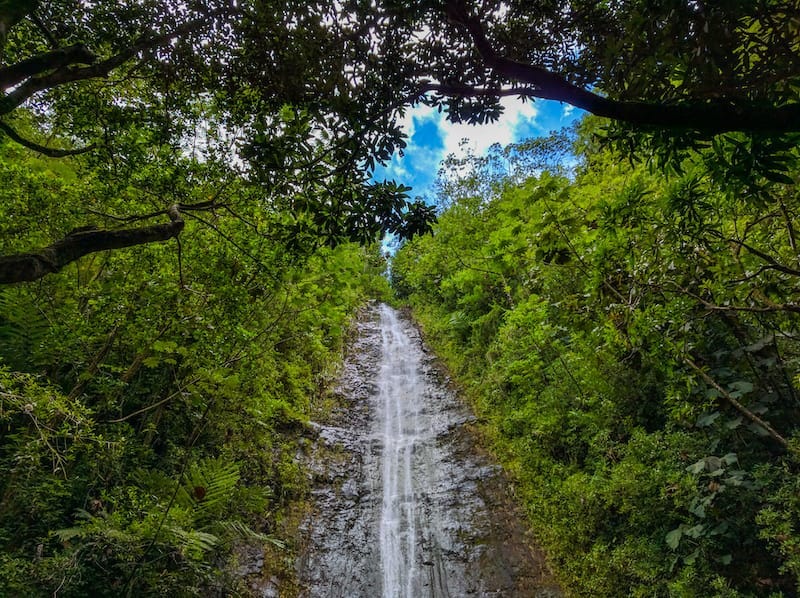 There are also many interesting things to discover in the Lyon Arboretum nearby. Check it out!
Attend the Best Luau on Oahu
The next thing on your Oahu itinerary is attending a Luau! And not just any luau – the best luau on Oahu! It's at the Polynesian Cultural Center.
Arrive early if you can, the grounds of the Polynesian Cultural Center and landscaped so beautifully. The sun will set just before your luau starts and the lighting will be so pretty! 
The Luau includes a traditional buffet-style dinner with staples like Imu pork, poke, white fish, and salmon. During dinner, you'll have live entertainment including singing, hula dancing, and fire dancing.
After dinner, you'll get access to another performance – Ha Breath of Life.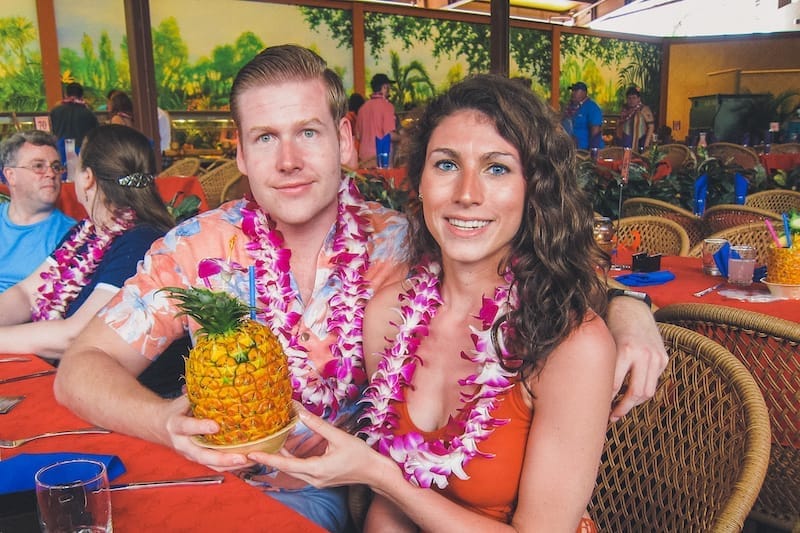 This is an artfully choreographed professional performance. It's a cultural experience on Oahu unlike any other. 
Insider tip: The Polynesian Cultural Center offers more than just luaus. In fact, you can book an entire day there and learn a lot about the Polynesian culture around the world and you'll learn to make a lei and much more.
Day 4: Pearl Harbor and Free Time
On your last day on Oahu, you'll want to start out with brunch at Heavenly Island Lifestyle where fresh and local ingredients are always served. It's a healthy and scrumptious island brunch! 
Visit Pearl Harbor Museum Campus
Next, you'll visit the Pearl Harbor Museum Campus. If you know any WWII history, you've definitely heard this name before.
As you may recall, Pearl Harbor was the location of the clandestine attack on America by the Japanese. At the time of this attack, the US had not yet entered WWII.
It was a catastrophic battle for the US, mainly because nobody saw it coming. This attack swayed the tide of WWII and changed public opinion in the United States.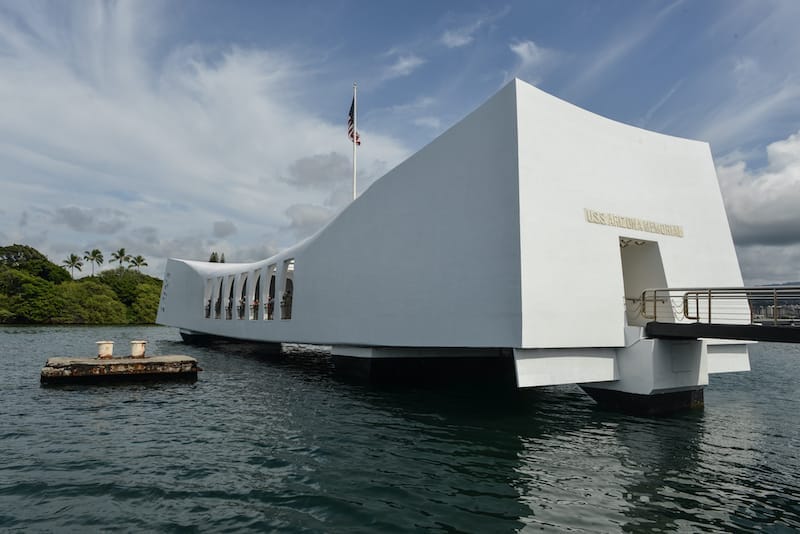 Previously, Americans were hesitant to join another "European War," but now Americans felt strongly that we must defend our honor and territory. 
At the Pearl Harbor site, you can visit ships, submarines, and memorial sites. It's most interesting to visit with a guided tour so that you don't miss out on any of the memorable details.
What to Do in Oahu on Your Last Day
Since it's your last day in Oahu, spend your afternoon however you'd like. If you feel like hiking, you can check out the Ho'omaluhia Botanical Garden.
If you want to do something thrilling, book a parasailing experience on Waikiki Beach. You may also enjoy a beachside massage at the Moana Surfrider.
End your last day in Oahu with a formal dinner at the Tommy Bahama Restaurant & Bar.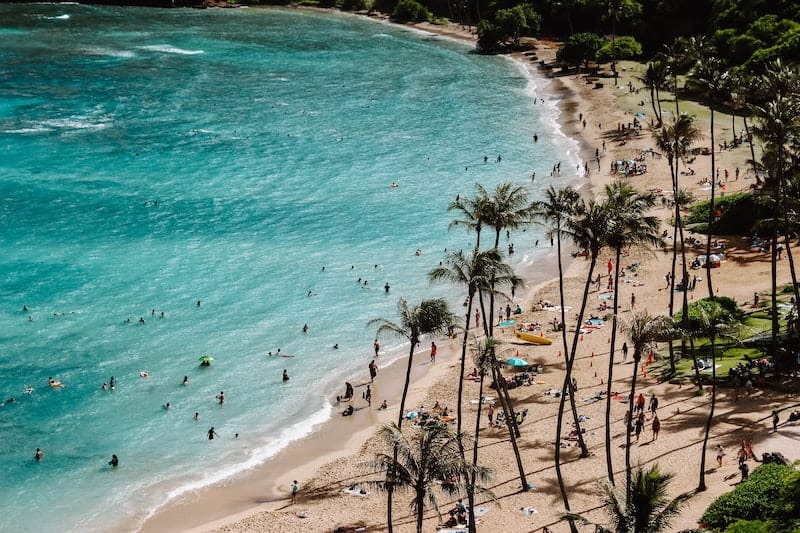 I hope that this itinerary for Oahu helps you plan your trip and figure out what amazing activities are your cup of tea on the Hawaiian island.
About Valentina
Valentina's Destinations was born from my obsession with meticulously researching, organizing, and planning my travel itineraries. I'm originally from Serbia, but I grew up in Chicago. I love hunting down local restaurants, unique experiences, and hidden gems.