Image Source: needpix.com
It is not very often that we associate Germany with rustic and blissful beaches. The Baltic Sea and the North Sea are the two water bodies that offer the country with a flourishing seashore. However, it lacks the appeal of the Mediterranean or the Adriatic sea. Isn't it? That is why you won't come across many people who have been to Germany only for the sake of enjoying the beach. But in reality, there are numerous pristine beaches in Germany and not many people are actually aware of them. The country's gorgeous coastline promises to provide the tourists with a great beachside vacation to the people. From peaceful virgin beaches to the crowded seashore, Germany has it all that you need. You will find a lot of things to participate in the German beaches and its extravagant resorts.
6 Popular Beaches In Germany
Beaches are so popular for a reason – beautiful sunshine, warm sands, pristine waters and adventure activities, make it an irresistible holiday package that a lot of people want. So, here are the top beaches in Germany.
1. Binz Beach
2. Langeoog Beach
3. Lubmin Beach
4. Wannsee Beach
5. Sylt
6. Usedom
1. Binz Beach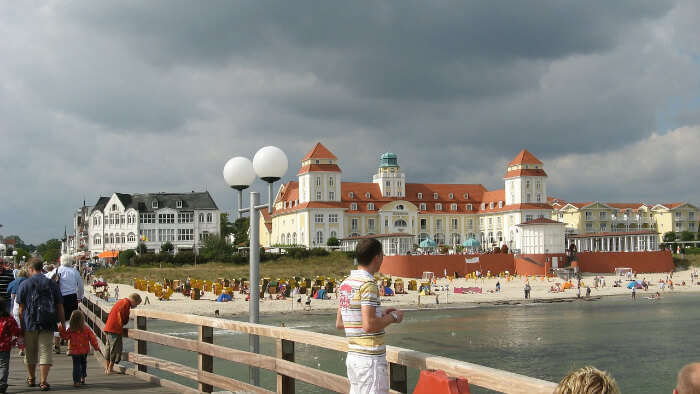 Rügen is undoubtedly one of the biggest of all the islands situated in the Deutschland. There are many gorgeous beaches in this area and has been an all-time favourite beach destination for the Germans. Here you will see old beech forests, turquoise waters and rugged cliffs that make for amazing hiking trails. The lovely beaches are covered in white sand that allows you to click Instagram worthy pics. Before you visit Rügen, you must remember that this is also one of the hottest beaches in Germany.
The area receives more than 1800 hours of sunshine every year, making it the sunniest part of the country. The coastal shores extend to more than 60 km and you can take part in different water sports at many of the beaches in Rügen. The town itself has a magical charm, with shades boulevards, ancient buildings and many hotels to choose from, to make your stay comfortable. It is easily one of the best beaches in Germany.
Location: Rugen Island
2. Langeoog Beach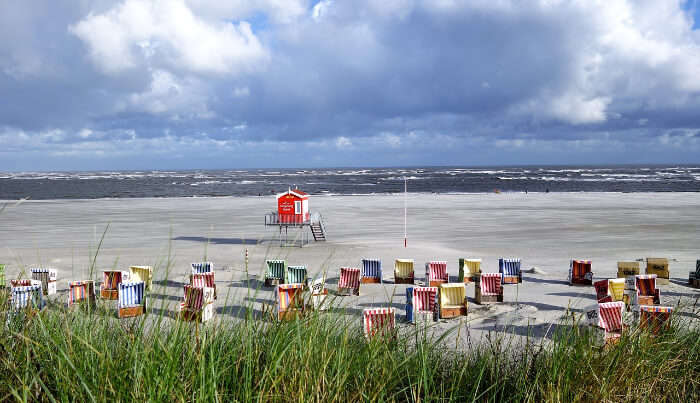 Langeoog Beach easily stands out as one of the best beaches on the North-Western coast of Germany. You'll be surprised to know that the government does not allow any cars on this island and you will need to explore it on bicycles or horse carriages. There is one railway line that connects only the Langeoog port and the main town centre. The beach is magnificent, covered in golden sands and the turquoise blue waters offer the laid back to your relaxation time. You will find beachfront resorts where you can stay for a few days.
The Langeoog beach is not very crowded and that is why it makes for a peaceful getaway all the time. The Langeoog Maritime Museum and Lower Saxony Wadden Sea National Park are some other places of interest for tourists.
Location: Witmund, Germany
3. Lubmin Beach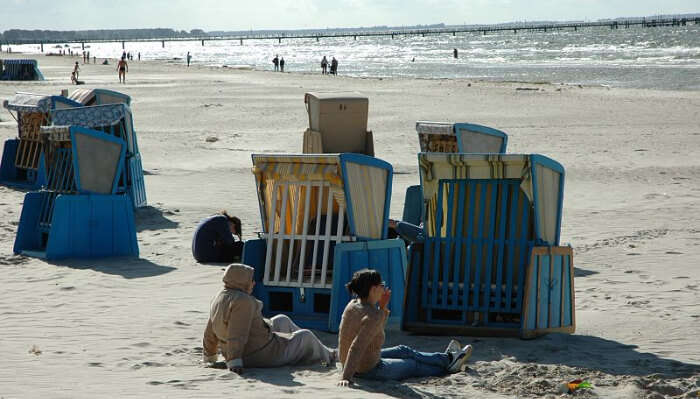 If you are in Germany in the month of September and looking for a short beach getaway, then Lubmin Beach is one of the famous beaches in Germany. Ideally regarded as one of the only nudist beaches in Germany, one can roam around the different parts of the beach without any clothes on them! Formerly a fishing village off the coast of Baltic Sea, Lubmin offers you a magical experience.
The rugged cliffs and the pine forests of the surrounding regions offer plenty of outdoor activities you can indulge in. From hiking, horseback riding and fishing, you can do it all at Lubmin. Get yourself some tan, lying back on the warm beach and enjoy your favourite cocktail.
Location: Greifswalder Bodden, Germany
4. Wannsee Beach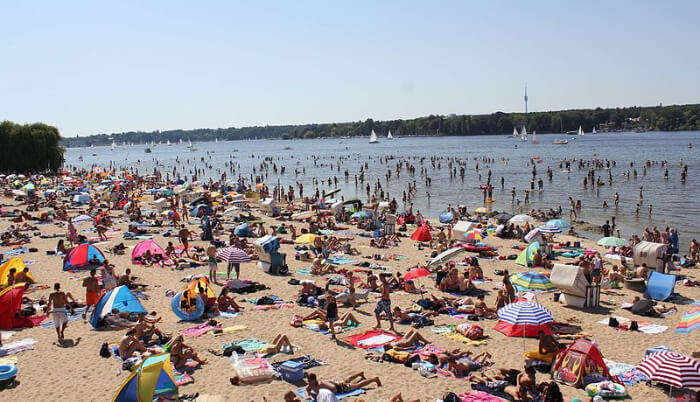 One of the few beaches in Germany near Berlin is the Wannsee Beach. Even though Germany does not have a huge coastline, it manages to deliver some really great beachside locations nonetheless. The inland lakes of this country make up for the missing seaside coastal beaches. The Wannsee lake is one of the biggest inland lakes situated close to Berlin and is flocked by the locals during the weekends.
It is an ideal place to go sailing and you can enjoy leisure time around in the magnificent white-sand beaches here. You can also take part in some of the thrilling water sport activities that take place here like speed boating and surfing. If you stay here overnight, then you will get to experience a nice nightlife which is provided by the local pubs and old school bars in the locality.
Location: Berlin, Germany
5. Sylt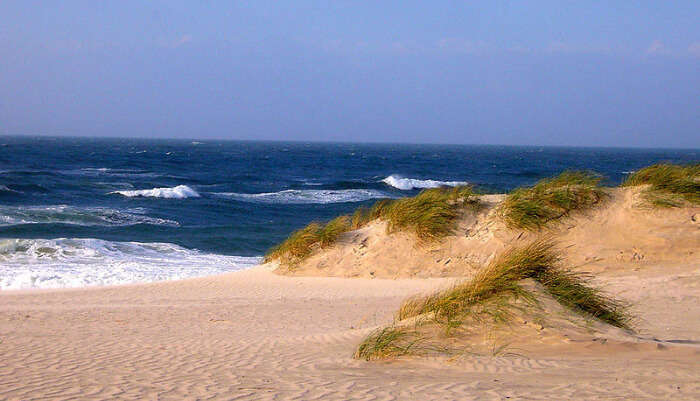 Around the Northern Frisian Island, Sylt boasts about some amazing German beaches. The island is located just in the middle of the Wadden Sea which is also a UNESCO World Heritage Site. This place holds every element that can make your holidays even more exciting than it already is. From the shifting dunes, water sports, mesmerising sunsets, thrilling nightlife, and so many other activities to take part in, Sylt is easily one of the best places to fulfil your desires to enjoy a proper beachside vacation.
Also known as the "Queen of North Sea", Sylt is easily accessible via different forms of transport from Berlin. Get yourself a room at one of the beachside resorts, and relax throughout the day. You can even go for the hiking trails or try your luck playing golf at the several golf courses here. The resorts available at Morsum, Keitum, Hörnum, and Kampen are the best places where you can find the most popular resorts and hotels.
Location: Sylt, Germany
6. Usedom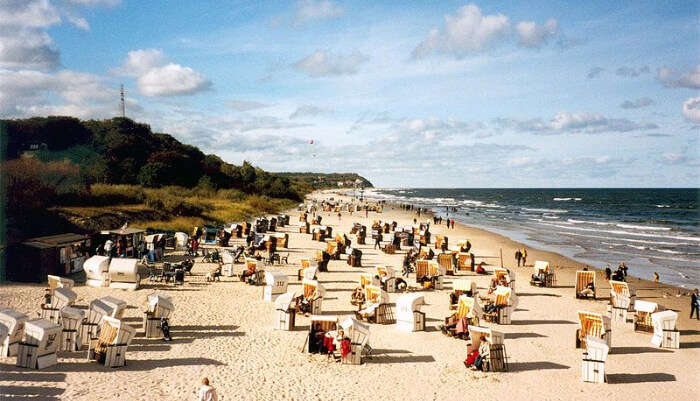 Situated beside the Baltic Sea, Usedom is well renowned in Germany for its popular "Singing Sands". This a wonderful natural phenomenon which takes place when the sand grains rub against each other and that cacophony leads to "strange noises". If the wind conditions are right, then you will be lucky to hear the sands singing their own song.
The beaches are drenched in the warmth of the bright sun through most parts of the day and are much less crowded than most other beaches in Germany. Either relax under one of the palm trees or hire yourself a jet ski for fun. The landscape surrounding this area is also gorgeous and needs exploring. You will be surprised to know that there are some really great spas, wellness centres and restaurants here. It is undoubtedly a unique experience to visit this German beach in 2021.
Location: Usedom Island, Germany
Germany is surely not everyone's choice when you want to enjoy a proper beachside vacation with your family or friends. But in spite of that, there are surely some good beaches in Germany to boast about. If you happen to visit Germany on your Europe trip, then you must spend some time by the beach and soak some Vitamin Sea.
Frequently Asked Questions About Beaches In Germany
Are there any beaches in Germany?
Yes. In spite of being a hinterland, Germany surely has some good beaches. Lubmin Beach, Wannsee Beach, and Sylt are some famous beaches in Germany you can visit.
What is the closest sea to Germany?
The distance between Berlin and the North Sea is 749 km and it is the closest sea to Germany where you can get some good beaches.
Does Germany have a coastline?
Yes. Germany has a coastline but it is really small at 2,389 km when compared to other countries that have huge coastlines with hundreds of beaches to explore and enjoy.
Is the Baltic Sea safe to swim in?
Yes. The Baltic Sea is surely safe to swim in. But you need to swim only in those areas where people are allowed to and not anywhere you like.