While many locals and visitors alike frequent Magic Island to connect with family and friends or simply to enjoy the great outdoors, it's unlikely that many know how the man-made peninsula came to be.
It all began with Ala Moana Beach Park.
Ala Moana Beach Park as it is known today features everything from ample parking and tennis courts to long stretches of calm, sandy beach. But before it became one of Oahu's most-loved attractions, it was, well, nothing more than a bog.
It wasn't until land-use development began in the 1930s that Ala Moana Beach Park began to take shape with the addition of features that included Bridle Path Bridge, Banyan Court, lawns and more, eventually being dedicated as "The People's Park" in 1934 by then-President Franklin D. Roosevelt.
In the years that followed, the park was utilized for far more than recreation, too. Military units, for example, could be found staging there during World War II.
Then, in 1954, construction on the beach began, followed by other additions, such as bath and concession areas, before Ala Moana Beach Park was added to the State Register of Historic Places in 1988.
These days, Ala Moana Beach Park welcomes roughly 4 million people each year who take advantage of the locale's serene shoreline and easy-to-access entry points. It also is the site of popular events like the annual Shinnyo Lantern Floating Hawaii.
The story behind Magic Island.
Based on sheer size alone, it's impossible to miss Magic Island, though there is a pathway from Ala Moana Beach Park that leads directly to it. Traverse this expansive 47-acre area and it won't take long to truly appreciate all it has to offer, either.
With something to do for everyone and a lively, welcoming atmosphere, it's hard to imagine the coastline without it — even though what eventually became Magic Island as it is beloved today was never really part of the original plan.
It's all reported to have begun in 1962 when a peninsula was erected in the east end of the area to make way for a resort. But after the project fell through, the grounds were converted into a public park.
And here's a fun fact: Its real name is Aina Moana Park, which translates as "land from the sea." Though, of course, everyone continues to simply call it Magic Island.
The addition of Magic Island has brought with it more to do for visitors of all ages.
With high seawalls and a shallow and rather mellow lagoon, it certainly makes for an optimal swimming spot for families with children. Its park grounds also help to create a warm, inviting environment, with large open spaces ideal for picnicking, setting up tents for birthday parties and family get-togethers, or even flying a kite. Picnic benches under breezy canopies of trees located throughout make for casual meetup spots or to comfortably relax in solitude, as well.
Meanwhile, a path that winds its way throughout Magic Island and into Ala Moana Beach Park attracts walkers, joggers and runners alike, as well as bicyclists and other outdoor enthusiasts.
Additional Magic Island amenities include a large parking lot with 470 stalls (almost half of the 1,000 parking stalls in total that are located throughout Ala Moana Beach Park), fishing areas, restrooms and a lifeguard on duty.
A bonus: Magic Island is a great place to dine al fresco and take in fireworks both every Friday evening, courtesy of Hilton Hawaiian Village Waikiki Beach Resort, and each 4th of July.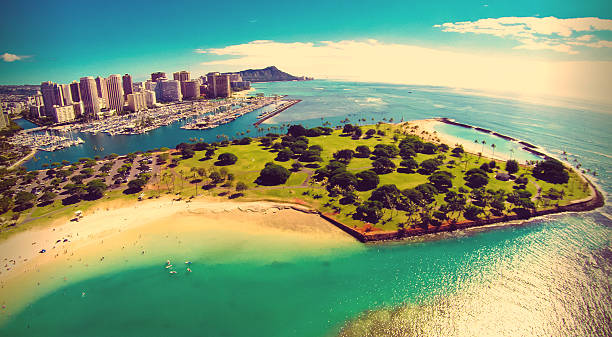 Reconstruction projects have helped to improve and maintain this Oahu landmark.
With the amount of traffic Magic Island has on a daily basis, it's no wonder that it has required quite a bit of upkeep over the years.
Most recently, Honolulu City and County took on a reconstruction project that saw improvements made to the parking lot — part of a bigger game plan already in motion to enhance Magic Island. Work included repaving and restriping; fixing tree planters and removing roots that were damaging the pavement; configuring a new drop-off area; and putting in new park road gates, benches and trash cans.
Other advancements have been completed in recent times, as well. Comfort stations and bathrooms have received facelifts, roughly 220 trees have been planted, lights throughout Magic Island have been changed to LED, exercise equipment has been added and much more, like the city's very first off-beach sand volleyball courts.
Set in the middle of urban Honolulu, there is much to do around Magic Island.
With a prime location comes lots more to do in the area that surrounds Magic Island. Its end marks the beginning of Waikiki, with views of the Ala Wai Boat Harbor visible from the shoreline.
Directly across from Magic Island sits Ala Moana Center, the largest open-air shopping mall in the world. Featuring anchor brands that include Bloomingdale's, Neiman Marcus, Nordstrom and Macy's, Ala Moana Center houses a bevy of shops, eateries and specialty stores that include Foodland Farms Ala Moana.
Next door, meanwhile, are the emerging neighborhoods of Ward Village and Kakaako, home to even more boutiques, restaurants and activities. Both remain under development, regularly welcoming new residents to sky-high towers that attract those interested in a live-work-play lifestyle, with everything they need within walking distance. Kakaako in particular may best be known for its colorful landscape that changes annually during POW! WOW! Hawaii, when renowned artists from around the world enliven the outside of businesses and on freestanding walls with showstopping murals that draw crowds.
So, with all that in mind, there is no shortage of things to do in and around Magic Island.