Scotland is one of my favorite places on the planet. I've visited the country countless times, and like Depeche Mode in the 90s, I just can't get enough.
One of the best things about the nation is how sparsely populated it is. Because only around 5.5 million people live in Scotland, there's loads of space—and that means a hefty number of tiny towns and villages. You'll find them lurking close to rivers, beaches, lochs, and looming mountains.
So in this guide, I've brought you a taste of them all. Here are my favorites—I reckon they're the prettiest villages and small towns in Scotland…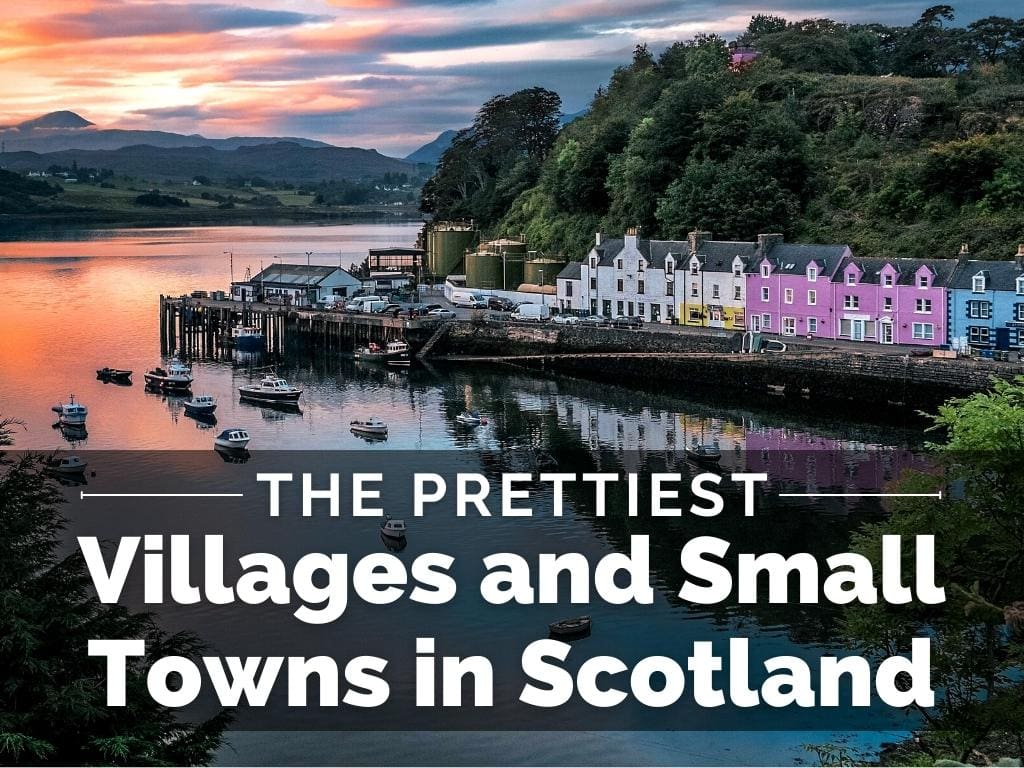 1. Fort William
Let's kick this list off with a place you've all heard of.
One of the most famous small towns in Scotland, Fort William sits right under Ben Nevis, where Loch Eil meets Loch Linnhe. It's perfectly-placed for hiking, cycling and exploring towns, mountains and lochs—and it has all the handy conveniences you need.
Aerial view of Fort William overlooking Loch Linnhe
And on top of that, it's the endpoint for the West Highland Way, probably the most famous long-distance hiking trail in Scotland.
But despite all that, there are much better villages and small towns in Scotland. So, yeah, Fort William is really famous, and I can't concoct a list like this without including it; but unless there's a very specific reason you need to visit Fort William, visit somewhere else instead.
Yeah, Fort William is famous—but it's full of subpar touristy stuff, it's not massively pretty, and the nation has way better places to visit. And with a population of around 6,000 people, it's nowhere near as cozy as some other places we've featured.
2. Fort Augustus
Around 30 miles (50km) north east of Fort William is Fort Augustus, also one of the most famous small towns in Scotland.
Sitting on the southern shores of Loch Ness, Fort Augustus is lovely.
Fort Augustus on the shores of Loch Ness
It's most famous for the five locks right in the center of the village, just before the village's canal bleeds into Loch Ness. A popular picnic spot, it's nice to watch boats move up and down the locks here.
Aside from that, Fort Augustus is a great base for exploring Loch Ness (and all its most famous attractions) to the north, Glencoe to the south, the Cairngorms to the east, and plenty more. And as an added little bonus, the entire town (not that there's much of it!) is really pretty and charming.
As an accessible and central base for exploring loads of the Scottish Highlands, Fort Augustus is a brilliant choice.
3. Ullapool
Ullapool is maybe my favorite town in Scotland—and it's in my favorite part of Scotland. The northern part of Scotland's west coast is phenomenal, and Ullapool is plonked right in the middle of it.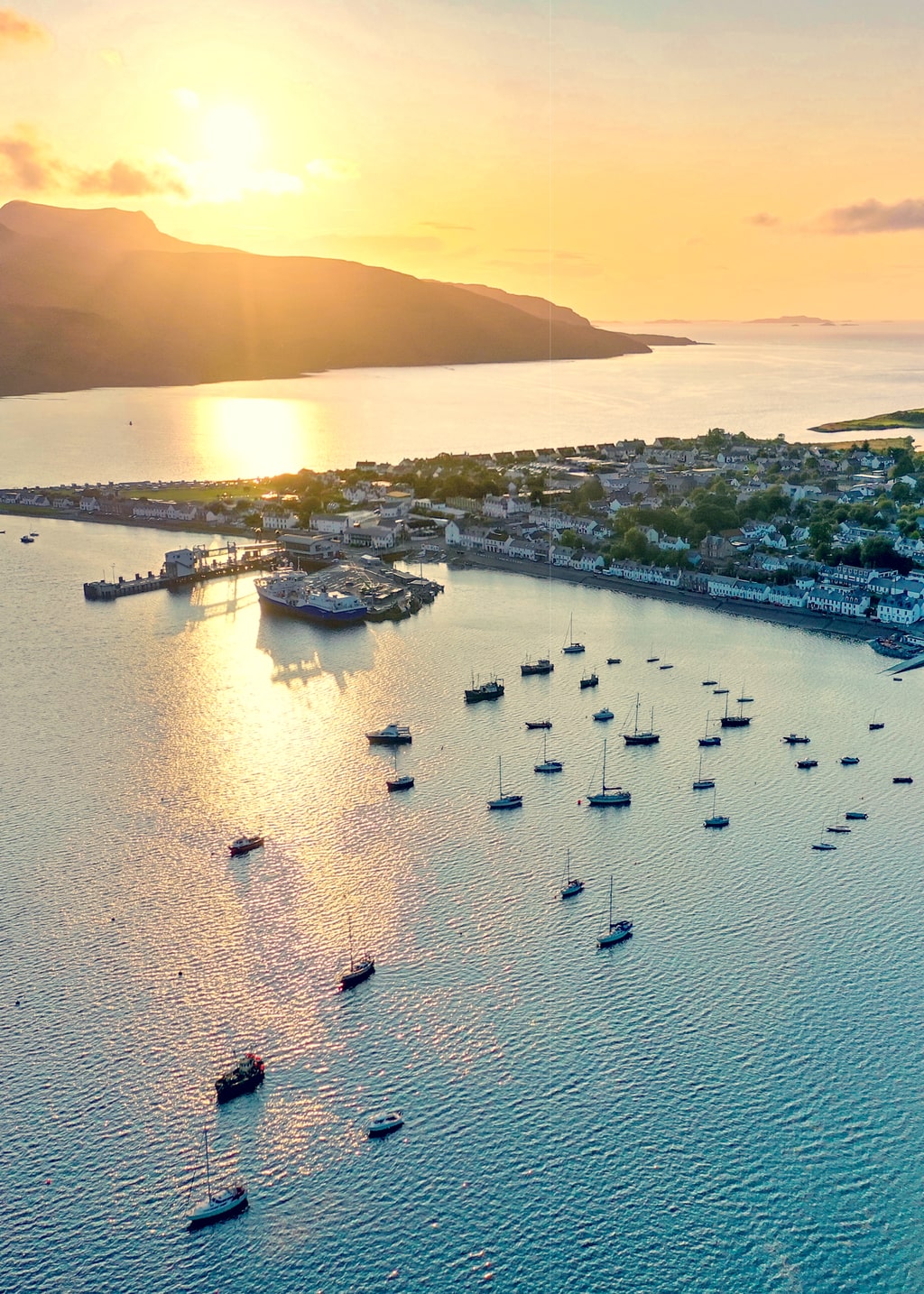 Sunset over Ullapool, North West Scotland
A square-shaped coastal settlement brimming with boats, fishermen, lovely seafood and endless beautiful views, everybody falls in love with the place. I did, you will, whoever you're traveling with will, and you'll want to stay forever.
Ullapool is a great place to use as a base—it's small, charming, pretty and well-located, but it's also (just) big enough to have handy conveniences, with pubs, cafes, excellent accommodations, and a supermarket.
Pro Tip: Head to the Seafood Shack in Ullapool, an outdoor eatery with some of the freshest seafood you've probably ever tasted. I love the place.
4. Durness
Around 70 miles (110km) north of Ullapool is Durness, another popular spot along Scotland's northern west coast.
Durness is right at the northern end, and it's most famous for its beaches. Some of the best include Durness Beach, Balnakeil Beach, Sango Bay, and Achmelvich Bay.
\
Sango Bay beach at Durness
Durness has a population of around only 350 people. But believe it or not, this part of Scotland is so serene and sparse that Durness feels like a relative metropolis. And because it's sandwiched between cliffs, coves, distant hills and brilliant beaches, it's absolutely beautiful.
From Durness, you can take boat trips to Cape Wrath, a ridiculously remote headland that's only accessible with the help of a boat (or your own feet).
Pro Tip: from Durness, make sure you visit Cocoa Mountain, a cute little chocolate shop in the middle of nowhere.
5. Plockton
South of both Ullapool and Durness, and also on Scotland's west coast, it's adorable little Plockton.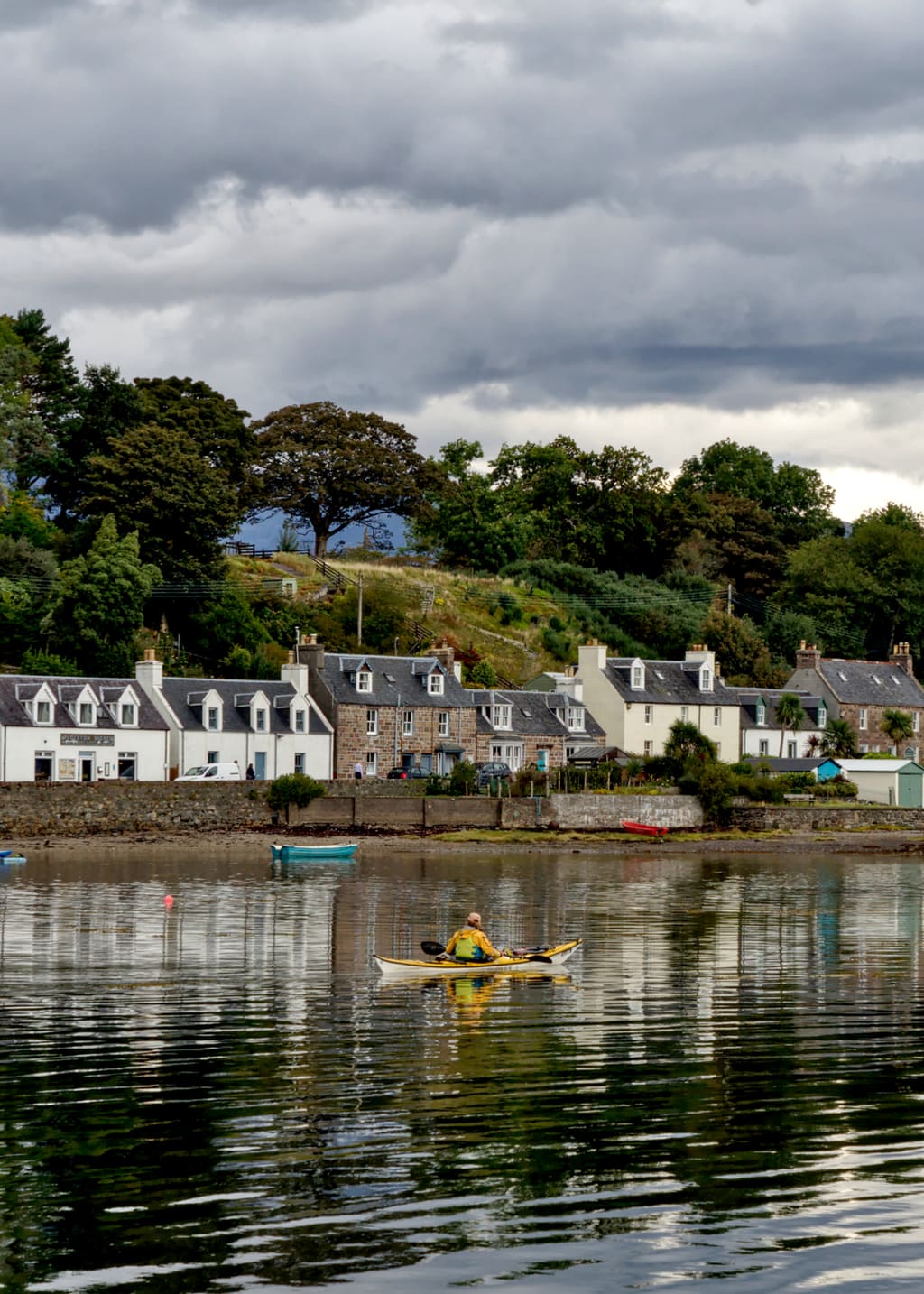 Kayaking on Loch Carron near Plockton village, Scottish Highlands
Ridiculously beautiful, there's not a lot to do here. But you'll love the place anyway. The drive to the village is along single-track roads, which bring you to a pocket-sized pier, a small beach, and a tiny forest. About 450 people live in Plockton, but it somehow feels like less.
Pro Tip: when you're visiting Plockton, make sure you drive in or out via Duirinish, just a few minutes south. The center of the village is one of the most picturesque places you've probably ever seen, with a stony bridge, a lovely river, Highland cows nonchalantly lying around on the grass, and about six houses.
6. Portree
Just west of Plockton is the Isle of Skye, Scotland's most famous island. And the capital of the Isle of Skye is Portree.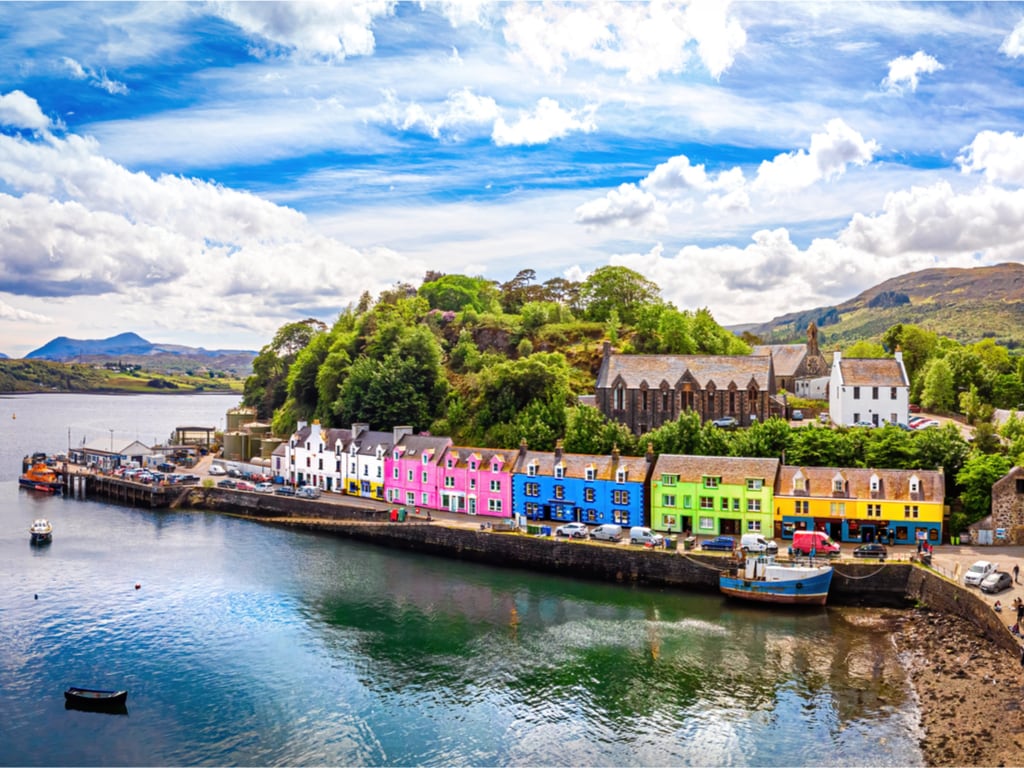 Colorful houses of Portree
The biggest town on the island (but only at around 2,500 people), most people use Portree as a base for Isle of Skye adventures. And that makes sense, because it's relatively central, and it has all the conveniences you need, no matter who you are or who you're traveling with.
Portree is most famous for its little row of colorful houses, which overlook the sea in the center of the town. Close by is also a lovely harbour, where you can get some great photographs.
But here's a controversial opinion: Portree isn't that good. Yeah, it's nice, and pretty, and it's a good base, but there are way prettier towns and villages in Skye. And that brings us to…
7. Elgol
I absolutely love this place.
A diminutive smattering of scattered homes, Elgol is more like a collection of lone houses than a village. And it's one of the most remote places I've featured on this list—right here, on the southern tip of one of Skye's most quiet areas, you get a weirdly apocalyptic vibe.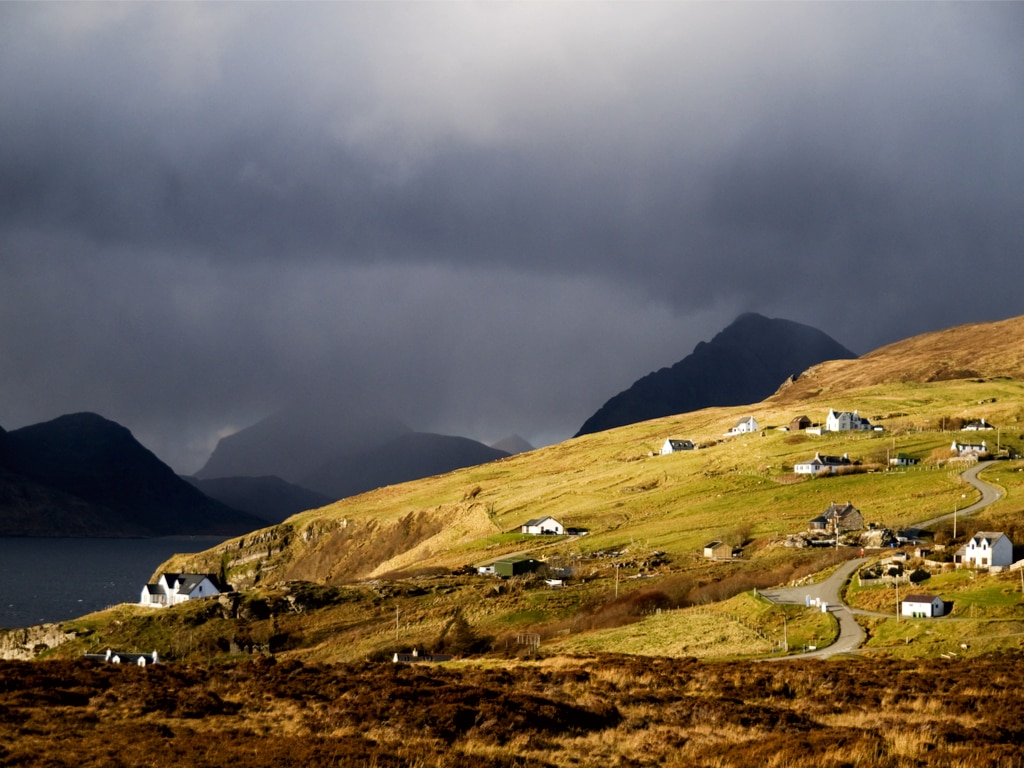 Elgol village, Isle of Skye
But I mean that in an alluring way, not like everyone is wandering around and salivating.
Anyway, Elgol is remote, and there's not much here in the way of conveniences. But you get great beaches, excellent cliffs, Spar Cave, and ridiculously good boat trips to Loch Coruisk, where (in the right season), you can see dolphins, whales, sharks, and more.
If you want to feel like you're on a rugged island, and not just in some big tourist trap, go to Elgol. But be warned: you'll need to travel to go shopping. No chance of supermarkets here kiddo!
8. Brodick
From one west coast island to another.
Brodick is the main access point for reaching Arran, probably my favorite island in Scotland. It's also the main town on Arran, and it's a great place to use as a base.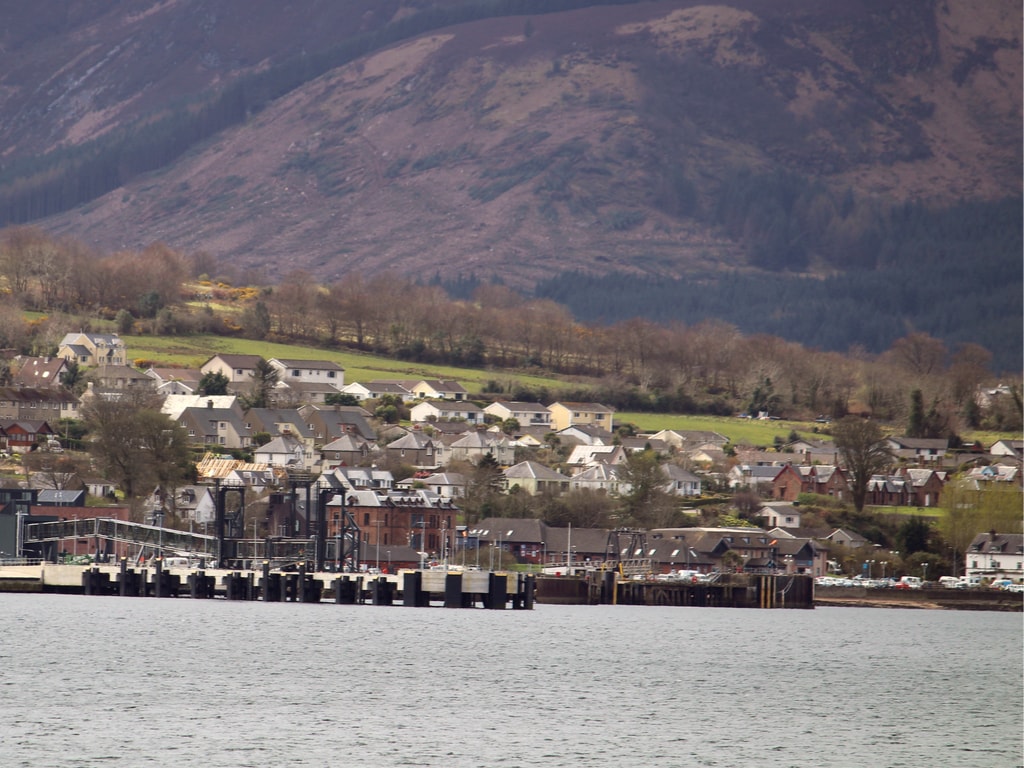 Brodick village, located on the Isle of Arran
From Brodick, you can hike up Goatfell (the highest peak on the island), and you can reach lots of the Arran Coastal Path, an excellent multi-day hike running around the entire perimeter of the island.
Aside from all that, you get Brodick Castle, lovely nearby beaches, brilliant places to eat and drink, and a bustling little port town with easy access to all other parts of the island.
9. Tobermory
Ever seen that British kids' TV show Balamory? It was filmed here.
Tobermory is like Portree, but with the colored houses turned up a notch—the fictional Balamory houses are actual real-life Tobermory houses. Visit them, get a selfie with them, tell everyone how colorful they are.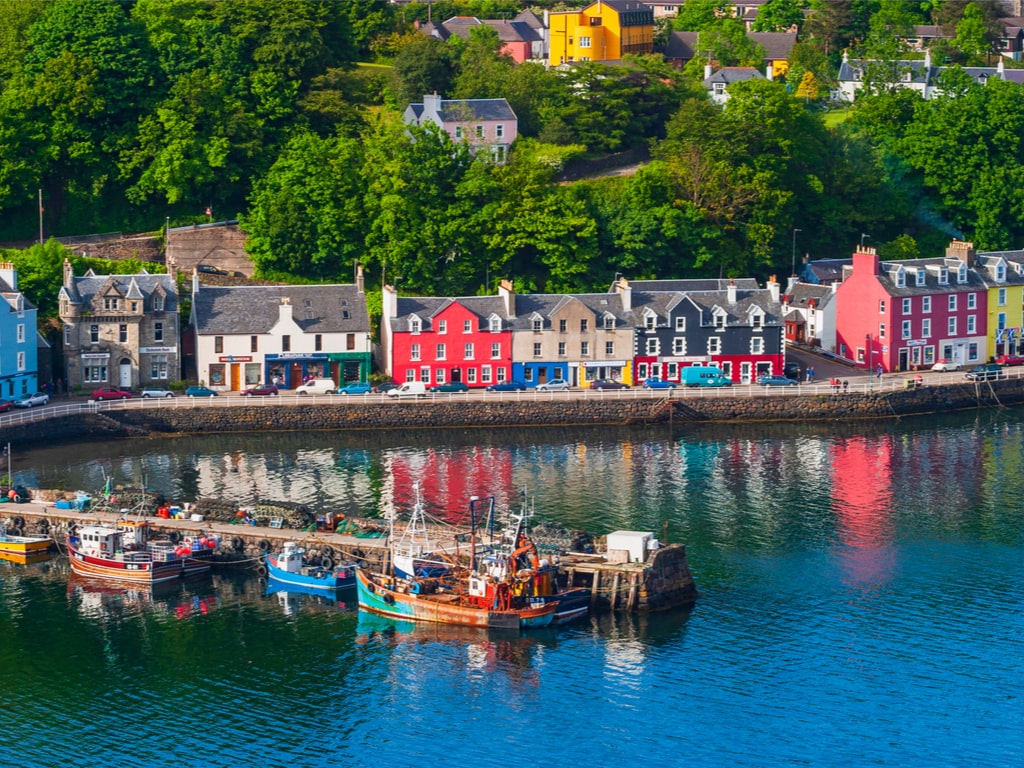 The colorful village of Tobermory
Halfway between the islands of Arran and Skye is the Isle of Mull (yeah, Scotland has a lot of islands). And the capital of the Isle of Mull is Tobermory. A beautiful little fishing port town, you get hills, woods, a lovely bay, and a couple of nice places to eat and drink.
Tobermory is placid, quaint and lovable, and it's a good idea to use the place as a base for exploring all of Mull (although, annoyingly, it's pretty far north).
10. Stranraer
We're still on the west coast of Scotland, but this time we've gone very far south.
Stranraer is my favorite underrated Scottish town—and it's one of the bigger towns on our list, with a population of around 10,000 people.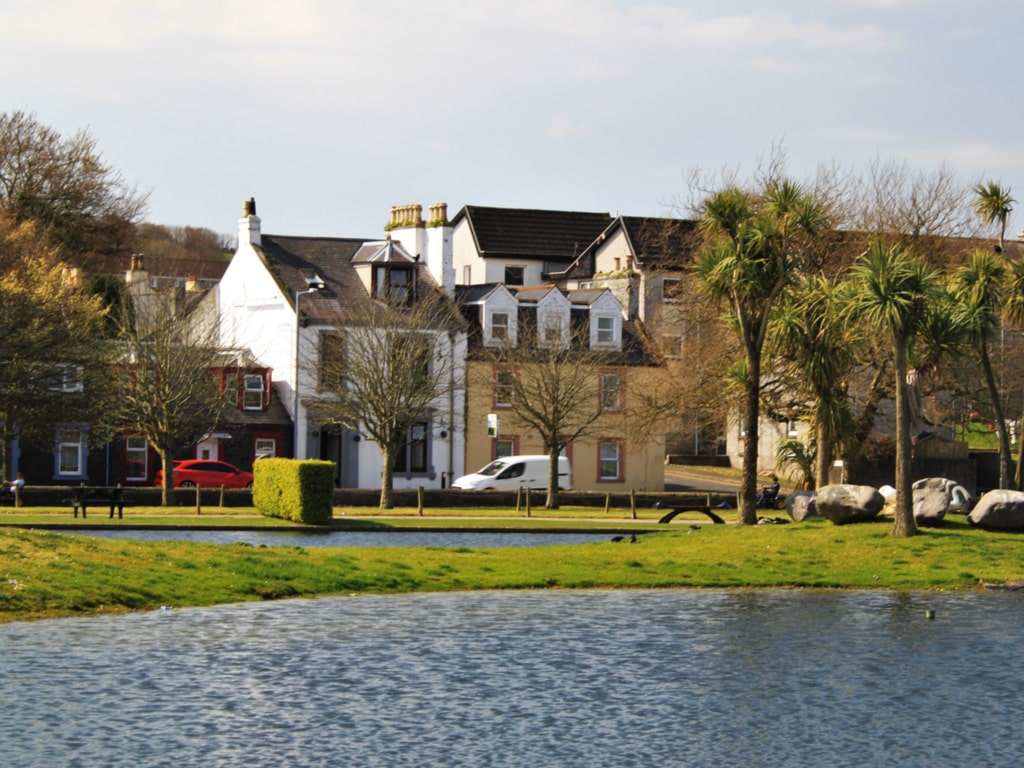 Stranraer town in South West Scotland
Not enough people explore this part of Scotland. They head to the Highlands, or visit Edinburgh, or drive around the North Coast 500. But not many people go to Dumfries and Galloway, the most southwestern region in Scotland.
Stranraer is a bustling little ferry port, and it's not particularly attractive (though it is welcoming and friendly). But all the areas surrounding it are attractive—close by, you have beaches, lochs, a surprisingly-massive stretch of coastline, lovely road trips, and the hugely-underrated Galloway Forest Park.
If you want an underrated base in the southern part of Scotland, Stranraer is an excellent choice.
Oh, and if you ever visit, say hello to my lovely friend Derek. He's nice, and he'll probably take you on a walk or something.
11. Portpatrick
Only around 8 miles (13km) west of Stranraer, Portpatrick is without doubt the prettiest coastal settlement in Dumfries and Galloway. So if you want a lovely Scottish village without having to wander too far north up the nation's west coast, Portpatrick is for you.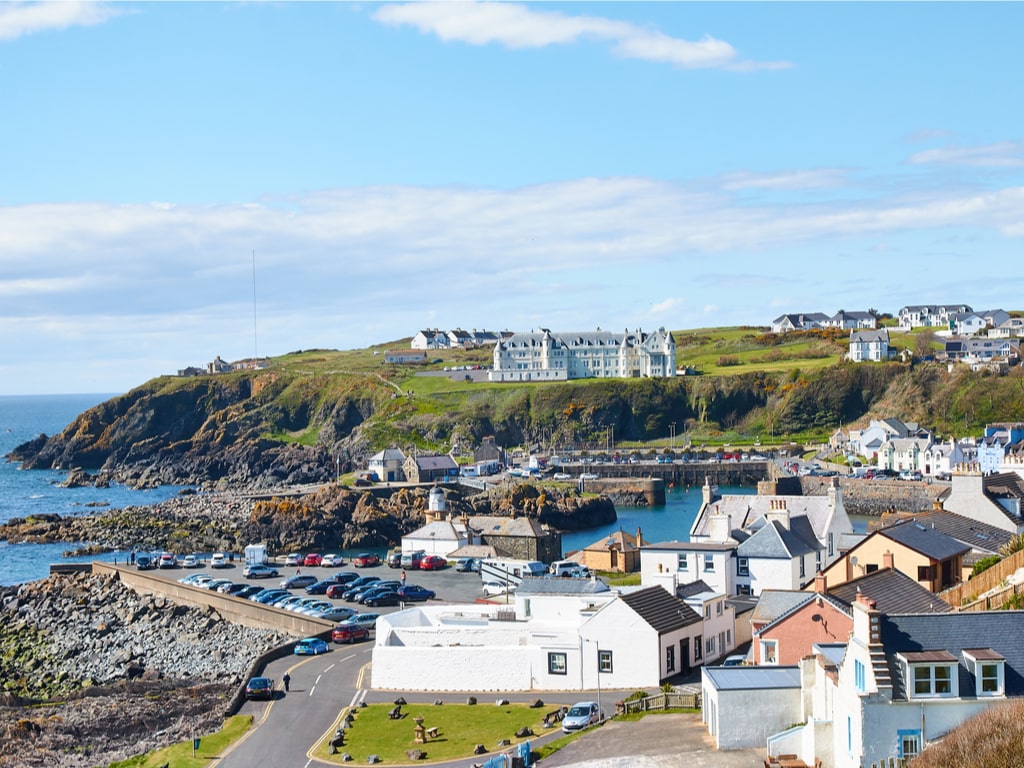 Portpatrick village in Dumfries and Galloway
It's nowhere near as big and busy as Stranraer, but it's much prettier. And best of all, it looks pretty unique.
While most Scottish coastal towns and villages have white homes, stone walls or brightly-colored facades, lots of Portpatrick's buildings are pastel-fronted. So it's a great place to grab some snaps.
The harbour is also very pretty, while the village offers brilliant (and beautiful!) boat trips for fishing and nature-spotting.
And if you're into long-distance walks, Portpatrick is the official starting point for the Southern Upland Way, a 214-mile (344km) coast-to-coast wander that ends in Cockburnspath (but more on that place coming soon).
12. Melrose
The most southern entry on our list, Melrose is located in the Scottish borders; east of Stranraer, and really close to England.
If you're looking for an underrated place with very few tourists, you've found it.
A small street with old houses in Melrose village on the Scottish Borders
Melrose is probably most famous as the beginning of St. Cuthbert's Way, an ancient pilgrimage route that crosses through to England, and finishes on the remote shores of Holy Island. The entire walk measures in at around 62 miles (100km), and it's absolutely brilliant.
But other than that, Melrose has a lovely abbey, a nice town center, and accessible hikes up the Eildon Hills. For the best views of Melrose, head up to those hills and look behind you.
13. Eyemouth
Lurking on Scotland's south east coast, Eyemouth is a perfect place for a cute family holiday. If you're traveling with kids, this pick is for you.
The Scottish town of Eyemouth
In Eyemouth, you get a traditional British seaside atmosphere, with caravans, buckets and spades, friendly faces, play areas, accessible beaches, and endless amounts of fish and chips. You'll love it, your kids'll love it, and you'll all probably want to keep coming back.
It's not the most adventurous place in Scotland, but it's definitely one of the most fun and friendly. And on top of that, it looks really pretty, it's surrounded by lovely cliffs, and some of the nearby places (such as Dunbar, North Berwick and St. Abbs) are beautiful.
And because it's only 5 miles north of the English border, Eyemouth is a good choice for people keen to explore the lower stretches of Scotland.
14. St. Abbs
Just north of Eyemouth, but completely different to its fun-filled neighbor, is St. Abbs.
Rugged, tiny, and surrounded by cliffs, St Abbs is much quieter and calmer than Eyemouth. But it's a great place for hikes, with some of the best clifftop wanders in all of Scotland. Along and around these cliffs, you also get nesting seabirds, Coldingham Bay, and St Abbs Head, one of the most famous lighthouses in the nation.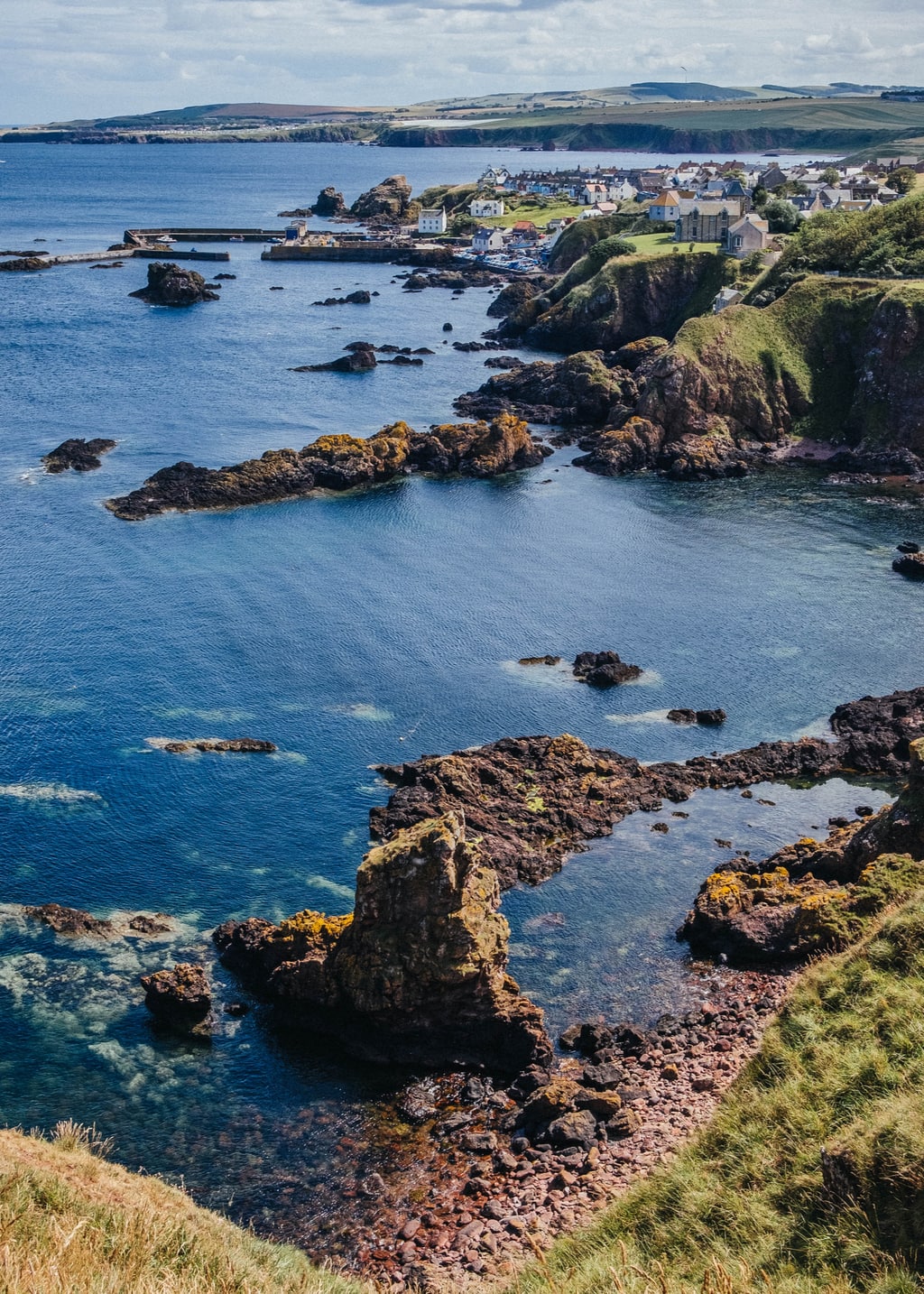 St. Abbs town north of Eyemouth
It's only a few white houses overlooking a pretty port, but St Abbs is really loveable and alluring. If you like small, attractive villages backed by big (and equally attractive) cliffs, St Abbs is the place for you.
The seaside stretch between here and Cockburnspath (which clocks in at around 10 miles/16km) is one of my favorite parts of Scotland. A dramatic ascent and descent past cliffs, wind farms, crashing waves and dramatic views, it's ridiculously beautiful. If you're cycling the Coast and Castles, you'll ride along this stretch—and it'll probably be your favorite part of the route.
15. St. Andrews
If you're scrolling through this list on the hunt for an Edinburgh day trip, St. Andrews is for you.
Only around 50 miles (80km) north of the nation's capital, it's a lovely place to spend a few hours (or even a full weekend, if you have the time).
St. Andrews village in Scotland
St. Andrews is most famous for golf, with 7 courses at St. Andrews Links, the biggest public golf complex in Europe. But aside from all the putting and pitching, St Andrews also offers a ruined church, an ancient cathedral, a beautiful university and great beaches.
And as a juicy little bonus, the entire town looks really pretty, with orange-roofed stone houses, grand architecture, and a hilly backdrop.
One of the biggest places we've featured on this list, around 17,000 people live in St. Andrews, so there are plenty of places to eat and drink.
16. Shieldaig
Shieldaig is absolutely tiny, so you probably won't spend more than a couple of hours here. But the couple of hours you'll spend, you'll really really love.
The Shieldaig village in the Northwest Highlands of Scotland
Only around 85 people live in Shieldaig, and the village is mainly made up of a school, a church, a couple of places to eat, a few homes, and not much else. But what it does have lots of, is views.
It sits on the shores of Loch Shieldaig, a mountain-backed sea loch that's great for scenic wanders. So if you have time, make sure you walk beyond the tiny confines of the village.
Pro Tip: if you really want to see how pretty the area is, go for the short and accessible (but very beautiful) Shieldaig peninsula walk, which measures in at around 3 miles (4.5km).
Oh, and visit the Loch Torridon Smokehouse in Shieldaig for probably the best smoked salmon you've ever eaten.
17. Gairloch
Around 15 miles (25km) directly north of Shieldaig is Gairloch (but because all the roads in this part of Scotland are really windy, the actual drive clocks in at much longer).
Anyway, no matter how far the drive is, make sure you go to Gairloch. The tiny village (with a population of around 700 people) is made up of a hill-backed beach and lots of bright-white homes. Some houses are close to the sands, while others are far back in the hills. But all of them are really cute.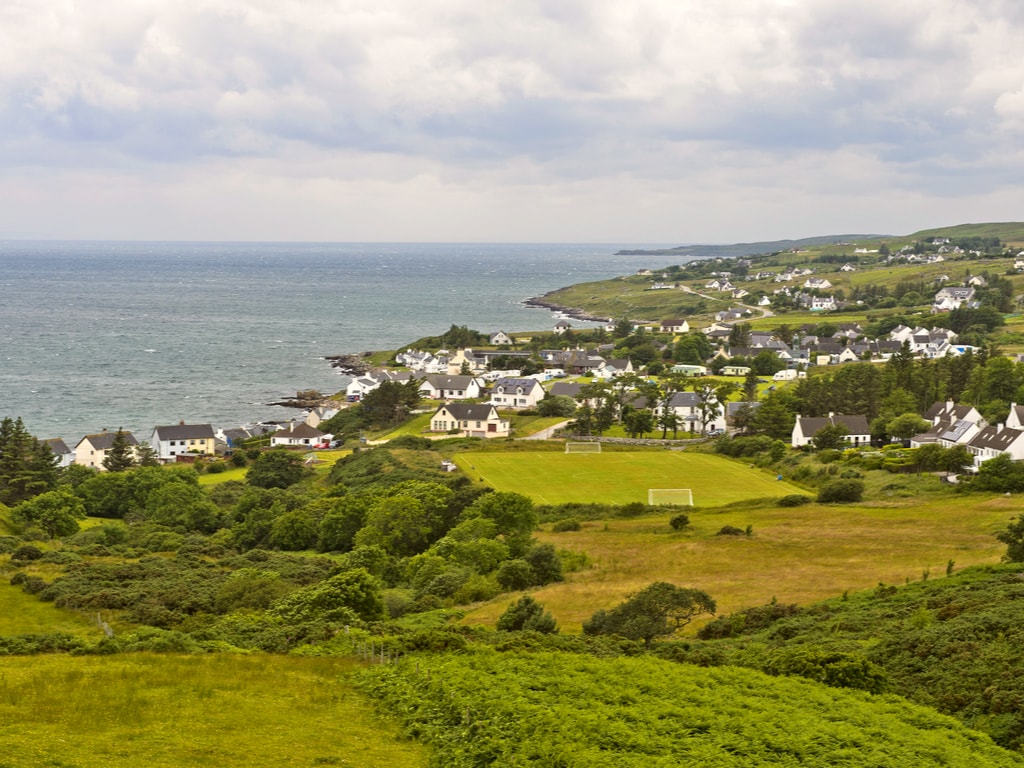 The small Gairloch village in Scotland west coast
Make sure you explore the hills, the mountains, the nearby lochs and the town itself. They're all beautiful, and this is one of the most diverse parts of western Scotland.
Pro Tip: visit the Mountain Coffee Company (a cafe), and Hillbillies Book Shop. The two places are attached to one another, and they're both really welcoming and homely. The cafe sells coffee from Bob Marley's brother.
18. Oban
Oban is super beautiful.
Built on a small hill, it's a multi-tiered town perched over the shores of a small bay, and topped by a colosseum replica (and, no, I'm not joking). Lots of people come here to take photographs—but they also visit to fish, hike, and take trips to Scotland's west coast islands.
Oban Harbor on the Argyll Coastal Route
If you've heard of Oban, it's probably because of its world-famous seafood—there are loads of great places in Oban for chewing and chomping. Two of the top eateries include Oban Seafood Hut and Ee-Usk, but there are plenty more places in town. For varied seafood, it's probably the best destination in Scotland, with lobsters, oysters, mussels, crab, salmon, haddock and loads more.
Pro Tip: Oban is really touristy, more so than most other places we've featured on this list. So if you want to enjoy it without loads of crowds, it's best to visit outside of summer.
19. Pitlochry
Like most Cairngorm towns and villages, a major road runs right through Pitlochry's main street. So if you want to visit a cute Scottish town that's easy to access, Pitlochry is a good choice.
The small town of Pitlochry in Scotland
The town itself is really attractive, made up of a collection of small brown-stone buildings. But the really pretty stuff is inside the nearby Cairngorms National Park, the biggest national park in the UK. Here, you get mountains, lochs, valleys, rivers, waterfalls, road trips and more—you could probably explore the park for 10 years without getting bored.
Pro Tip: other good options for pretty places in the Cairngorms are Aviemore, Ballater, Breamar and Boat of Garten. Aviemore is the most famous, but Pitlochry is my favorite, even though it's not quite inside the official confines of the park.
20. Glencoe
If you like hiking, you'll love Glencoe. If you like road trips, you'll love Glencoe. If you like nice scenery, you'll love Glencoe.
Basically, unless you're the world's most miserable cynic, you'll absolutely love Glencoe.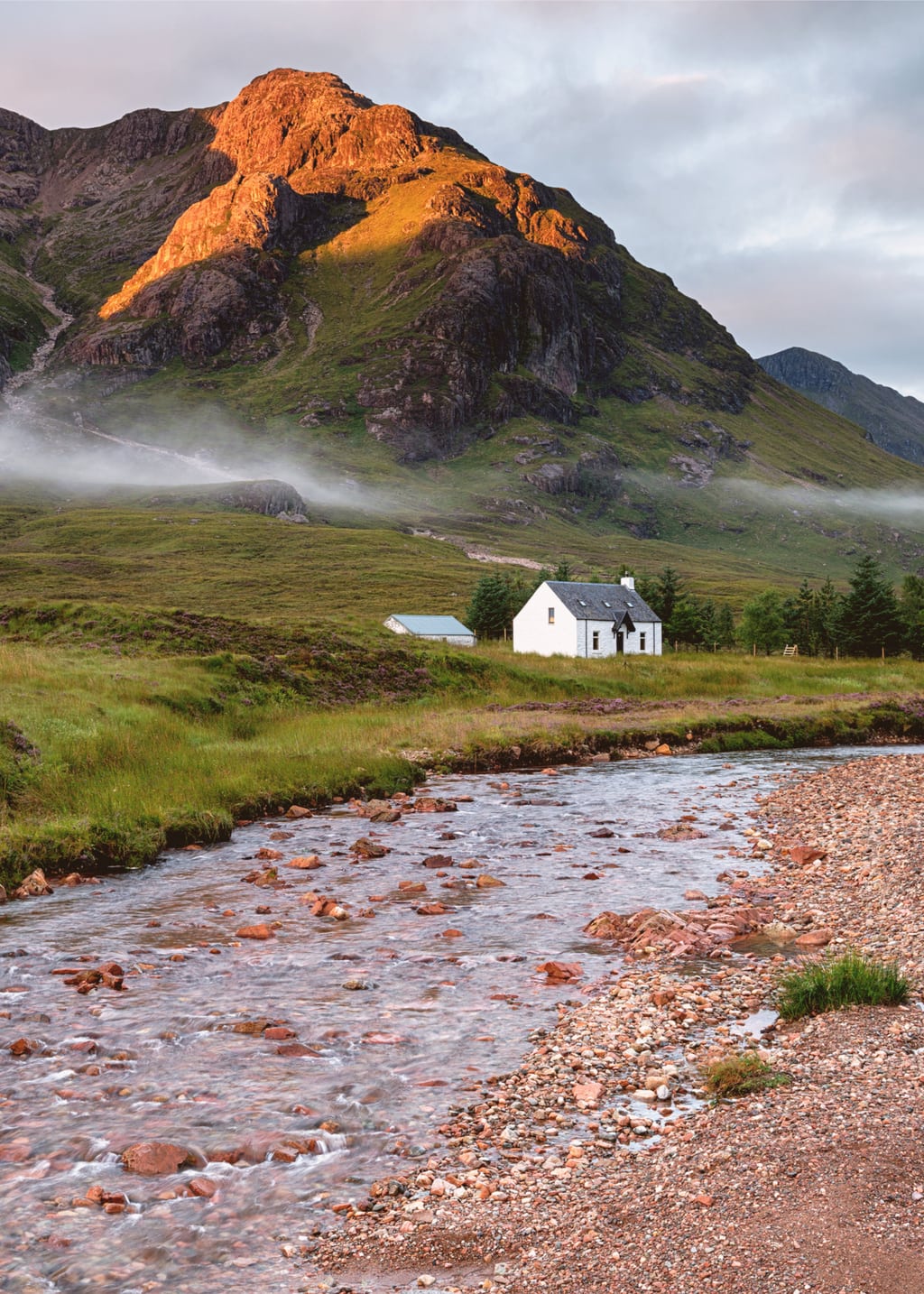 A remote mountain bothy at the foot of Glencoe in Scotland
Close to Fort William, the place is always overshadowed by its next-door neighbor, because Fort William has way more conveniences, and places to eat, drink and sleep. But Glencoe and its surroundings are much more beautiful.
The small few houses that make up the 400-inhabitant village look pretty quaint and cosy, but the real appeal here is in the mountains surrounding the homes. Nestled right in the heart of a steep valley, there are endless peaks around the village, which sits right on the shores of Loch Leven. The drive into Glencoe village is amazing, but the hikes, road trips and bike rides in and around it are even better.
21. Lochcarron
Another tiny place, and another village you probably won't visit for more than a couple of hours.
But when you get to Lochcarron, you'll see why I included it on this list.
Perched over the shores of Loch Carron (a loch that goes by the same name as the village—confusing), it's a great place to sit with a coffee or food, and just relax. There's really not much to do here, but when the mountains look this good, looking at the mountains is enough.
Pro Tip: for a great mini adventure, follow the A896/A890 roads around almost the entire perimeter of Loch Carron (the loch, not the village). You get lovely views, and you get to see almost the whole loch. It's best to do it on a bicycle, but going by car is fine too.
22. Stromness
It's been a while since I've mentioned any island towns and villages, so let's get that fixed.
Stromness is the second-most populous town on the Orkney Islands, a mighty archipelago off the eastern end of Scotland's north coast. Made up of 70 islands, Orkney has loads of lovely towns and villages. But I reckon Stromness is the prettiest of them all.
Waterfront view of houses and hill in Orkney harbour town of Stromness
Orkney's main port, Stromness is a bustling little place, and it has an enticing energy. You get labyrinthine alleyways, hilltop houses, and a beautiful village that spills right into the harbour beneath it.
Stromness is ridiculously beautiful, and it's a great place from which to explore all of Orkney's hills, hikes and shores.
23. Lossiemouth
One of my top under-the-radar picks on this list, nowhere near enough people know about Lossiemouth.
But more people should. And now, you do.
I only visited Lossiemouth to visit a friend. I hadn't heard of the place either, so I was massively surprised by how lovely it is.
The beautiful Lossiemouth village
Another little fishing town, Lossiemouth is in Moray, bordering Aberdeenshire, and close to Elgin. It's pretty far from most other places we've featured on this list, so if you're exploring the more northerly parts of Scotland's east coast, head towards it. In Lossiemouth, you'll find two great beaches, lots of dunes, plenty of friendly faces, and a really pretty town.
It's a relatively popular spot for locals on family day trips, so there are lots of places to stuff your face full of ice cream and fish and chips.
24. Bridge of Allan
My final entry is bigger than most other places we've featured so far, with a population of around 5,500 people.
Most places on this list are known for their outdoor escapades, with loads of opportunities for hiking, cycling and wandering.
And although there's lots of that on offer in and around Bridge of Allan, it's best to explore the town by eating and drinking in its cafes, bars and restaurants. If you prefer lazing around towns rather than enjoying outdoor adventures, you'll probably love Bridge of Allan. It's pretty, welcoming and friendly, and it's a good place to waste a few days or hours.
For one of the best brunches you've probably ever had, go to The Hideaway Cafe.
Pro Tip: while you're in Bridge of Allan, visit nearby Stirling, Scotland's most overlooked city.
Final Words and Further Reading
Thanks for reading! I reckon they're the 24 prettiest villages and small towns in Scotland.
Sorry if I missed off your favorite. Scotland has loads of lovely places, so I hope you can forgive me.
If you want to know anything else about traveling in Scotland, check out our articles on the best hikes in Scotland and the best road trips in Scotland. Or if you really like small towns and villages, wander over to our guide on the best small towns and villages in Northumberland.