From ancient Hawaiian settlements and now-abandoned sugar mills to historic lighthouses and royal residences, the Hawaiian Islands are home to some truly magnificent historic landmarks that remind us of our island chain's great history. These awe-inspiring famous landmarks in Hawaii are truly one-of-a-kind, and should be on everyone's Hawaiian historical bucket list.
1. Aloha Tower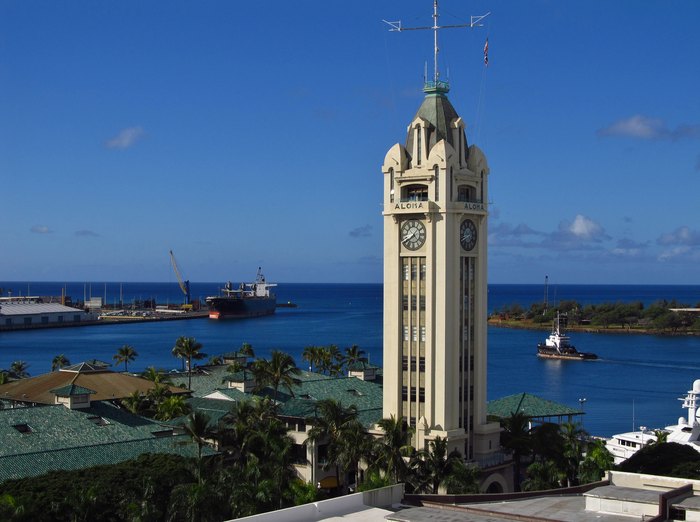 Jasperdo/Flickr
Located on Pier Nine in Honolulu, the Aloha Tower is both a lighthouse that has guided countless ships to shore, as well as one of Hawaii's most well-known landmarks. It was built in 1926 at the then astronomical price of $160,000. At 10 stories and 184 feet of height with an additional 40 feet of flag mast, the Aloha Tower was the tallest building in Hawaii for four decades.
Aloha Tower Drive, Aloha Tower Dr, Honolulu, HI, USA
2. Kalaupapa Leprosy Settlement

Conor Dupre-Nealy/Flickr
Located on the tiny island of Molokai, with the ocean on one side and giant 1,600-foot cliffs on the other, is the Kalaupapa Leprosy Settlement, described by Robert Louis Stevenson as a "prison fortified by nature." Kalaupapa is now a U.S. National Park, and home to a dwindling population, those of whom are outnumbered exponentially by those in the cemetery – where an estimated 2,000 graves lie unmarked, in addition to those with headstones.
Kalaupapa National Historical Park, 189 Kaiulani St, Kalaupapa, HI 96742, USA
3. Kawaiaha'o Church

Lismadom/Flickr
Popularly known as Hawaii's Westminster Abbey, Kawaiaha'o Church was once the nationa church of the Kingdom of Hawaii, and the chapel for the royal family. The curch, located in downtown Honolulu, is one of the oldest standing Christian places of worship in Hawaii.
Kawaiaha?o Church, 957 Punchbowl St, Honolulu, HI 96813, USA
4. Old Sugar Mill of Koloa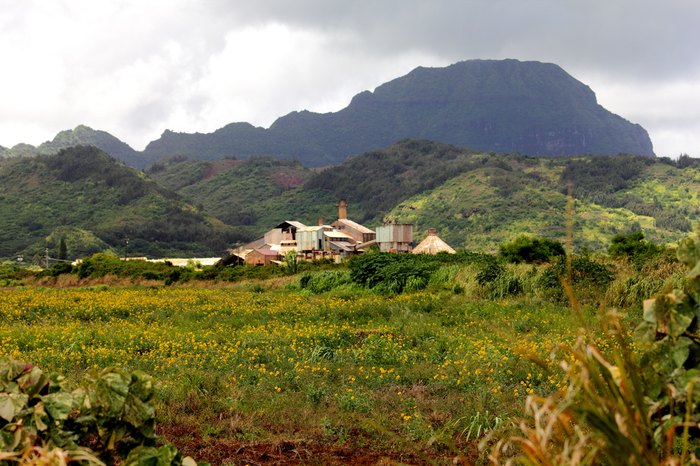 Steve Shupe/Flickr
Located on the southern coast of Kauai, the Koloa Sugar Mill was built in 1835, and was a part of the first commercially successful sugar plantation in Hawaii, though it was eventually replaced by the current structure to the east in 1912. The Koloa Sugar Mill continued production until it was closed in 1996, and now sits abandoned.
Old Koloa Sugar Mill, Koloa, HI 96756, USA
5. United States Naval Base, Pearl Harbor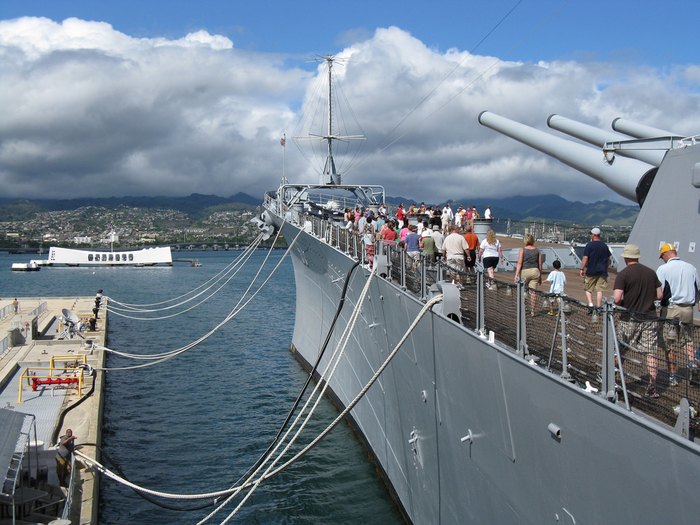 vipnyc/Flickr
December 7, 1941: a day that will live on in infamy, the Japanese airstrike against the Hawaii naval base killed 2,400 service members and civilians, and injured another 1,200. All eight United States Navy battleships were damaged, and the attack is considered the event that triggered America's involvement in WWII. Pearl Harbor is a dark reminder of the horrors of war.
Naval Station Pearl Harbor, Joint Base Pearl Harbor-Hickam, HI, USA
6. Captain Cook's Landing Site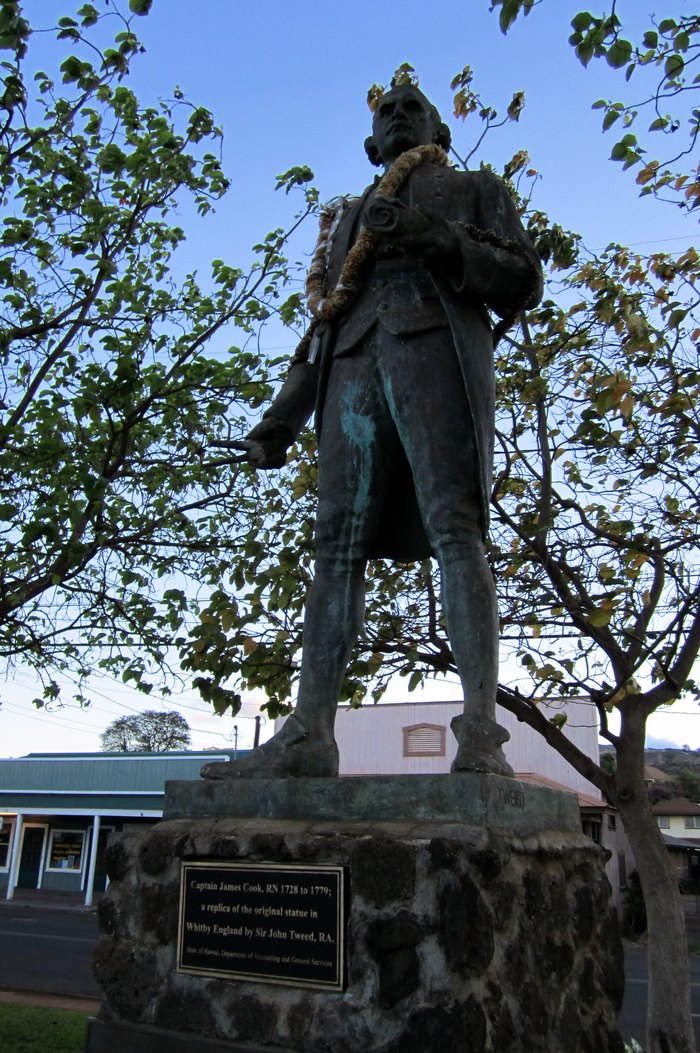 Wally Gobetz/Flickr
British Captain James Cook landed in Hawaii in 1778, and named the islands the "Sandwich Islands" after the Earl of Sandwich. The British brought many new infectious diseases to the islands, and Captain Cook died during a fight the following year.
Captain Cook Landing Site, Waimea, HI 96796, USA
7. Pu'u O Mahuka Heiau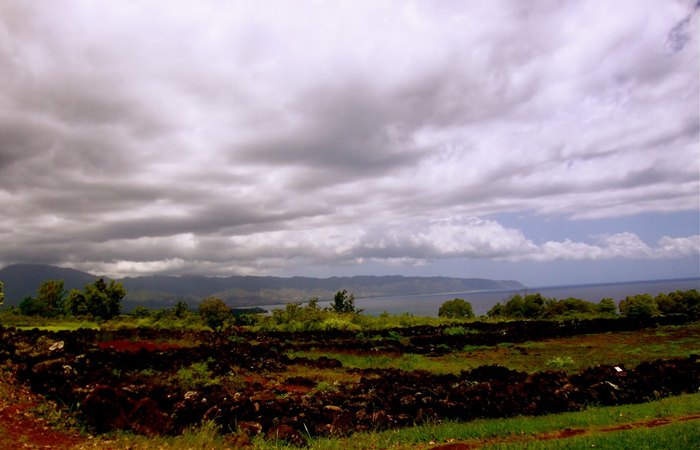 karendesuyo/Flickr
Located on a hillside overlooking Waimea Bay, Pu'u O Mahuka Heiau – an ancient Hawaiian temple – is the largest on the island, and might have been constructed as early as the 1600s. In the late 1700s, during a period of political upheaval, it is suspected that there was human sacrifice at the temple, perhaps to encourage war success.
Pu'u O Mahuka Heiau State Historic Site, 59-818 Kamehameha Hwy #96712, Haleiwa, HI 96712, USA
8. Honokohau Settlement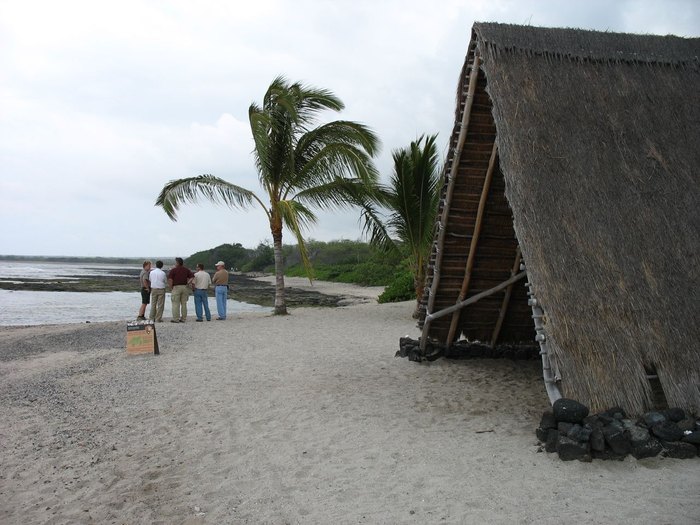 Felicia/Flickr
Situated on Hawaii Island's Kona coast is this famous national historical park established in the 1960s, once the site of Honokohau Settlement. The archaeological site is home to ancient Hawaiian aquaculture fishponds, petroglyphs, house site platforms, and sites with religious significance.
Kaloko-Honok?hau National Historical Park, Kailua-Kona, HI 96740, USA
9. Washington Place

Ken Lund/Flickr
Located in Honolulu, Washington Place is the site where "Queen Lili'uokalani was arrested during the overthrow of the Hawaiian Kingdom." The residence later housed 13 Hawaiian Governors before being converted into a museum.
Washington Place, 320 S Beretania St, Honolulu, HI 96813, USA
10. Lahaina Banyan Tree

Bevis Chin/Flickr
Is there really anything more stunning than an old, big, and beautiful tree? Located near Lahaina is the largest banyan tree in Hawaii, and one of America's largest as well, with its trunk and aerial root system covering 0.66 acres. The seedling was approximately eight feet tall when it was planted in 1873, and is the oldest banyan tree in the Hawaiian Islands.
Banyan Tree Fine Art Gallery, 648 Wharf St #101, Lahaina, HI 96761, USA
11. National Memorial Cemetery of the Pacific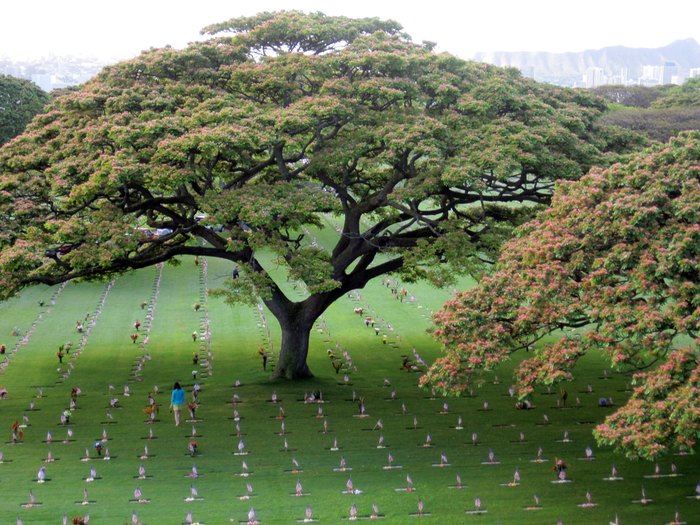 Nate Burgos/Flickr
Informally known as the Punchbowl Cemetery, the National Memorial Cemetery of the Pacific is on the National Register of Historic places, and serves as a memorial to honor those who have served in the United States Armed Forces, and those who have given their lives doing so.
National Memorial Cemetery of the Pacific, 2177 Puowaina Dr, Honolulu, HI 96813, USA
12. Iolani Palace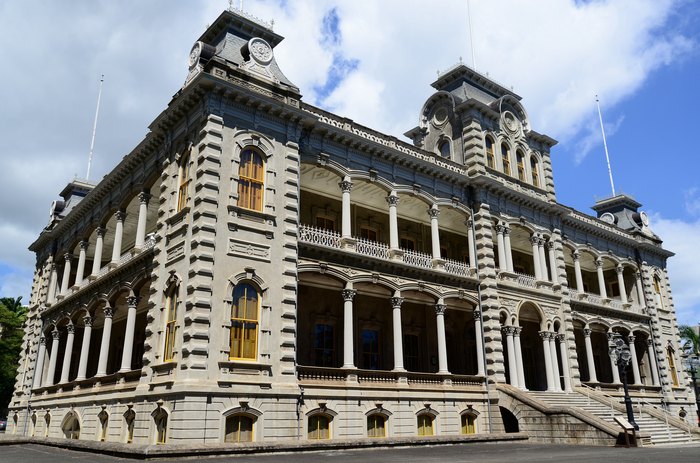 Jim Bowen/Flickr
Iolani Palace was the royal residence for the Kingdom of Hawaii from 1845 to 1893. After the monarchy was overthrown, the building served as the capitol building until 1969, and then in 1978, restored and opened as a museum.
Iolani Palace, 364 S King St, Honolulu, HI 96813, USA
Which of these famous landmarks in Hawaii have you experienced? What other landmarks in Hawaii would you add to this list? Tell us your thoughts in the comments!
What are some significant historical sites in Hawaii?
There are many significant historical sites in Hawaii in terms of both native history and United States history; in United States history, Hawaii is where Pearl Harbor is located and thus was the site of the infamous Japanese attack during World War II that led to the use of the first atomic bombs. As for native history, another significant historical site in Hawaii is the stunning Iolani Palace, which is where the last reigning sovereign queen of Hawaii was held on house arrest while her kingdom was being overthrown. Both sites commemorate dark parks of Hawaii history, but they are certainly worth exploring, nevertheless.
Where are some notable historical places in Hawaii?
Hawaii is a gorgeous state filled with cultural and historical significance, and there are lots of historical places in Hawaii you ought to add to your bucket list ASAP. The Big Island alone is filled to the brim with places of historical significance, and it would take a whole vacation alone to explore it all. Some of the most notable historical places in Hawaii include, of course, Hawaii Volcanoes National Park, which is the literal birthplace of the islands. Hike through incredible lava fields and witness the subtle power of the always-erupting volcanoes on the island. Alternatively, visit the Polynesian Cultural Center for a taste of Hawaiian culture and history!
What are the most commonly visited landmarks of Hawaii?
Of course, considering its remarkable historic significance, it's no surprise that Pearl Harbor is a landmark in Hawaii that sees a huge number of visitors every year – roughly 1.8 million! Another Hawaiian landmark that visitors and locals alike love is the famed Hanauma Bay, which isn't only beautiful – it's also thought to be THE snorkeling hotspot of the United States! You will have never seen so many brilliantly colored and vibrant fish, reefs, and more. It's an experience you won't forget, no matter how old you are. It's an amazing landmark in Hawaii to visit for families, couples, and just about everyone.