A new sculpture, "Old Tree," is now on view over the intersection of 10th Avenue and 30th Street, claiming residency through Fall 2024. Created by Zurich-based artist Pamela Rosenkranz, the vivid sculpture is the third High Line Plinth commission, which changes every 18 months. The Plinth is one of the only sites in New York City for artists to create large-scale contemporary artworks.
"Old Tree" is a 25-foot-tall pink and red sculpture, shaped like a realistic tree, but constructed completely from man-made materials. Rosenkranz's piece was selected from 80 proposals shared with the public in 2020, with people drawn to this piece thanks to its optimistic energy. The installation follows Sam Durant's "Untitled (drone)," installed in 2021, and Simone Leigh's Brick House, which inaugurated the Plinth program in 2019.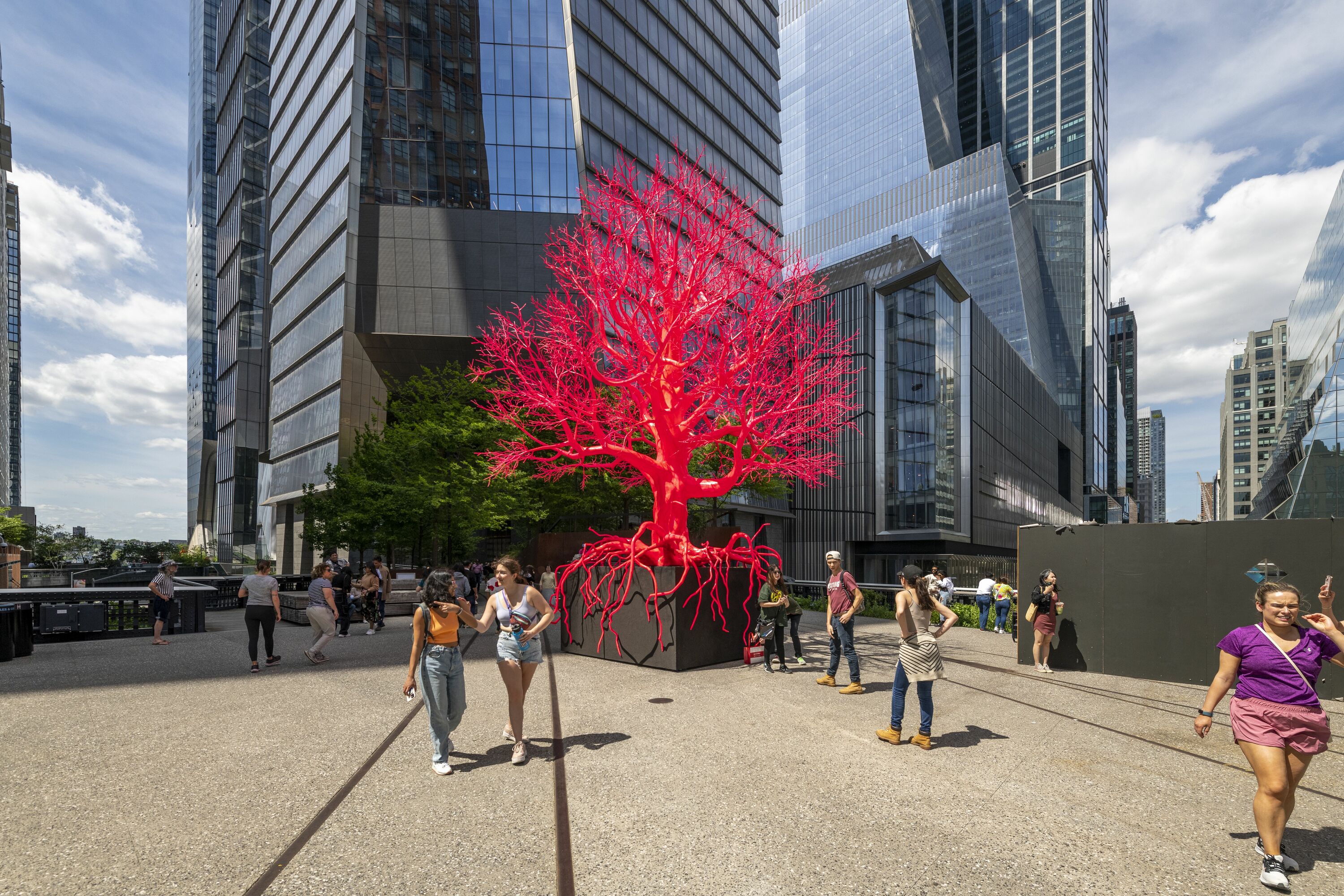 "Old Tree" evokes archetypes of the tree of life said to connect heaven and earth. The sculpture resembles the branched systems of organs, blood vessels, and tissue of the human body, inviting viewers to consider the connection between human and plant life. The piece also raises discussions about the synthetic and the natural, appropo for the High Line, a contemporary urban park built on a relic of industry. The work is designed to create a social space, providing shade and intriguing conversation spots in its surroundings.
In honor of the exhibition, public programming created around the themes of botany and anthropology will take place "Old Tree's" residency.
"'Old Tree' comes alive on the High Line, amid the park's foliage and the surrounding architecture," said artist Pamela Rosenkranz. "I look forward to seeing how visitors further activate the sculpture."
The sculpture will open on Monday, May 8, and be on display through September 2024. It will overlook 10th Avenue and West 30th Street.